Industrial Disease Claims
For free legal advice call our Industrial Disease Solicitors and we will help you. Ask if we can deal with your claim on a No Win, No Fee basis.

We're rated
'Excellent'
Our Industrial Disease Solicitors can help you claim compensation for a work-related illness and access the care and support you need. You deserve to be protected at work to ensure your safety is maintained. We have a huge amount of experience fighting for justice on behalf of our clients and offer a Free assessment to see if you have a claim for compensation. We also work on a No Win, No Fee basis so there is no financial risk to you.
Some of our clients were exposed years ago to a known hazard, such as asbestos, by employers who are no longer trading. We can still help in making an industrial disease claim in these circumstances. This is especially true when the symptoms of the exposure often do not present themselves until years later.
We're experts at tracking down companies responsible for industrial diseases, such as asbestosis, mesothelioma, pleural thickening, work related hearing loss and hand arm vibration syndrome.
Taking the Stress Out of Making a Claim
When someone is suffering as a result of exposure to a hazardous substance at work, we understand that making an industrial disease claim can be very upsetting for our clients and their families. Our friendly and experienced team of specialists will be with you every step of the way, holding your hand and guiding you through the claims process.
Our Industrial Disease Solicitors have an enviable track record of securing compensation for our clients and will take an efficient yet sympathetic approach to handling your case.
We can also advise on what state benefits you're entitled to receive and help you access support from patient charities supporting you through what can be a very difficult time.
We Deal with a Wide Variety of Industrial Disease Claims including:
Why Choose Simpson Millar?
At Simpson Millar we want to help you. We are proud of our track record and the comments from our clients which is at the end of the day why we do the work we do.
What is an Industrial Disease?
An industrial disease is any illness caused or made worse by work. Many industries are particularly high-risk, such as construction, engineering, mining and metal/foundry works.
Symptoms of some of these conditions can take many years to become noticeable, so you may not know exactly where you were put at risk, and if you do, the company responsible may no longer be trading.
However, we're experts at tracing those responsible and maintain a database of companies and their insurers. So even if you were exposed to harm at work a long time ago and the company responsible isn't now in business, we may still be able to help you.
Our Industrial Disease Solicitors have the expertise to make the difference between winning or losing a case, and maximising the amount of compensation you can be awarded.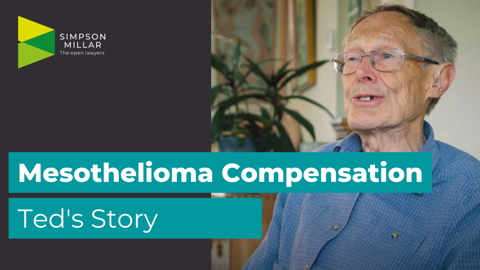 Ted's Story
Ted was diagnosed with Mesothelioma after feeling breathless. He was exposed to Asbestos at work in 1959. He now knows his wife is safe and secure for the future.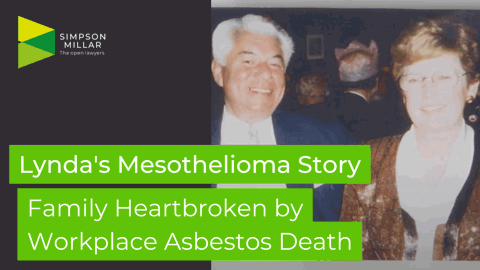 Lynda's Story
We have helped so many people who have become ill from their jobs. Watch Lynda story as she shares her family's experience of her mother's death which was caused by asbestos exposure and how our Industrial Disease Solicitors were able to help.
Support Charities
We are proud to support the following charities in the incredible work that they do:
A charity based in Wales that gives essential help and support to people living with asbestos-related illnesses and their families.
One of the largest charities in the country that provides wide-ranging information and support to those affected by cancer, and campaigns for improved healthcare for cancer patients.
A national asbestos-related cancer charity.  The charity is dedicated to supporting people with mesothelioma by providing information and care and by improving treatment for mesothelioma patients
Rowcroft Hospice provides a wide range of specialist palliative care services for people and their families with progressive life-limited illnesses. 
FAQs about Industrial Disease Claims
Each industrial disease claim is unique, so to value your claim, we'll have to take a detailed look at your individual situation. However, compensation will cover factors such as:
The severity of your illness
How much support and rehabilitation you need
Loss of earnings
Pain and suffering
Medical expenses
We want you to start on the road to recovery without delay. So if the other party admits partial or full liability (fault) and they're insured, we can apply for Interim Payments of compensation for you early on.
That means you can cover urgent costs such as regular household expenses, outstanding debts and mobility equipment without having to wait for legal proceedings to end.
Industrial disease claims can often be funded through a No Win, No Fee agreement, just ask us for details.
Get in touch, today!
Fill in the form below to get in touch with one of our dedicated team members, or call our team today on: 0808 239 0144