Cauda Equina Syndrome can occur when the nerves at the base of the spine are compressed. It can have a devastating impact on a person's life, potentially causing life-changing injury, paralysis and incontinence if it's not treated straight away.
Since today is the first ever international awareness day for Cauda Equina Syndrome, our team of Medical Negligence Solicitors want to do our bit in highlighting the causes, symptoms and effects this terrible condition can have.
Symptoms of Cauda Equina Syndrome
Warning signs of Cauda Equina Syndrome can include:
Pain in the lower back
Weakness in both legs that gradually gets worse
Abnormal bladder and bowel functions
Loss of feeling around the buttocks or genitals
If you start showing these symptoms, they could possibly mean you have Cauda Equina Syndrome. Cauda Equina Syndrome is a medical emergency, so don't delay getting medical attention, as you're more likely to make a full recovery if you're diagnosed sooner rather than later.
What Causes Cauda Equina?
Cauda Equina Syndrome can be caused by:
Spinal injury or trauma
A tumour in the spine
Infection
A herniated disc
The symptoms of Cauda Equina Syndrome can be treated if they're detected early enough, but if the warning signs aren't spotted, a person can be left with life-changing injuries.
How We Can Help You 
If doctors failed to identify and treat Cauda Equina Sydrome after you presented with symptoms or test results were misinterpreted, you could claim compensation, so you can access vital treatment and long-term support.
You may also have a claim if you developed Cauda Equina Syndrome because of negligent surgery.
Our expert Medical Negligence Solicitors offer a free claims assessment, and we'd be happy to speak with you about your situation and discuss whether you may have a claim. With the right compensation settlement in place, you can get the care, rehabilitation and support you need, and recover any financial losses, such as lost earnings, prescription charges and the cost of home adaptations.
It's our aim to help you get justice and get started on the road to recovery as soon as possible.
We also want to make sure that if medical negligence has occurred, the NHS will learn lessons for the future, so the same mistakes don't happen again. That's why we're determined to work with the NHS to settle medical negligence claims, using methods such as Mediation to encourage constructive dialogue and positive outcomes for our clients.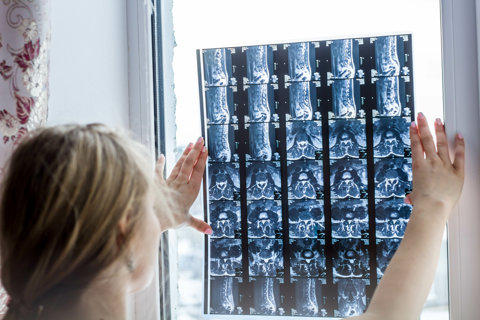 Cauda Equina Claim Case Study
£145,000 Compensation for Cauda Equina Medical Negligence
We represented a woman whose symptoms of Cauda Equina Syndrome had been missed by an orthopaedic specialist at her local hospital.

Our investigation showed that the orthopaedic doctor hadn't acted on the information given by an emergency GP, who'd recorded a partial left-sided saddle block. As a result, our client hadn't been referred for an emergency MRI scan and diagnosed with Cauda Equina Syndrome as early as she could have been.
Because of the delay, our client suffered bladder and bowel complications, and it was another two days before she underwent the surgery she needed. Due to the delay in operating, she suffered completely avoidable bladder and bowel problems, which affected her job and her relationship with her husband.
The NHS Trust responsible denied fault at first, but eventually acknowledged that the hospital didn't spot the warning signs of Cauda Equina Syndrome when she presented at hospital. With our help, our client was awarded £145,000 compensation.
We want to see fewer mistakes like this happening in NHS hospitals, and for clinicians to be able to recognise the warning signs of this terrible condition and act appropriately without delay.
That's why our Medical Negligence Solicitors always aim to work with the NHS to settle compensation claims, rather than against it. By working collaboratively with healthcare professionals, we can not only get the best outcomes for our clients, but also help to make sure that the mistakes that led to problems being missed aren't repeated.
Get in touch, today!
Fill in the form below to get in touch with one of our dedicated team members, or call our team today on: 0808 239 6043