Josh Owens has progressed from British 125 and GP2 racing to British Superbike level in recent years and we at Simpson Millar are proud to have sponsored him throughout.
We caught up with him to chat about his route into racing and what advice he'd give to others wanting to follow in his footsteps.
Josh Owens, the British 125 champion in 2015 and Moto2 BSB champion in 2018, is now making a name for himself as a British Superbike rider for CDH Racing.
He grew up around bikes, being encouraged to ride a mini quad and a Mini Moto from a young age, so it was perhaps a natural choice for him to move into competitive racing.
"My dad's always been a petrol head," he said.
"He's had his cars and bikes and had a few mates who had bike shops."
But it was having a go on a little Mini Moto at the age of five that proved a big moment in Josh's life.
"[Dad] said do you want to have a go?" Josh said.
"I had a go then and I loved it."
This led to him taking part in races as a child, and he's risen up the rankings ever since.
Sponsors Play a Key Role
Josh is quick to credit his sponsors for the big part they've played during his career, and our Motorcycle Accident Solicitors are proud to have thrown our weight behind this talented rider over the last few years.
"If it wasn't for sponsors we wouldn't be here," Josh said.
"They're a massive part of it. It means a lot. You just wouldn't be on the grid without them at all."
We're proud to have sponsored Josh throughout his career as he is an exceptional talent. We look forward to continuing our sponsorship of Josh and we will be watching the start of the new season with keen interest.
"Don't give up, it's a hard sport, If you really want it you have to work for it. Nothing comes easy, but if you keep on chipping away, you will get there."

Josh Owens

British 125 and Moto2 BSB champion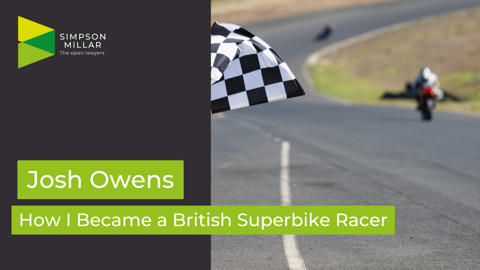 Staying Safe on the Road
While Josh is used to the rough and tumble that comes with competitive Superbike racing, he's very safety conscious when he's out and about on the roads.
Josh cycles a lot and believes spatial awareness is critical when it comes to getting around safely.
"You do notice there's a lot of idiots out there, not just in cars," he said.
"Take your time, be cautious and look for people who are looking at their phones and not at what they're doing."
Josh provides some excellent advice as to staying safe on the roads. We at Simpson Millar have been constantly promoting safety on the roads for vulnerable road users, such as motorcyclists, cyclists and pedestrians, over the last few years and we're proud to continue doing so during the summer months, where such road users will significantly increase in numbers.
Get in touch, today!
Fill in the form below to get in touch with one of our dedicated team members, or call our team today on: 0808 239 6443