November is Lung Cancer Awareness Month, a nationwide event to encourage people with symptoms of lung cancer to visit their GP.
This message is perhaps more relevant now than ever, as one of the most common signs of lung cancer is a persistent cough. So many people might automatically, and understandably, assume they've developed Covid-19, rather than lung cancer.
But lung cancer is the most deadly cancer in the UK, and a person's chances of survival depend on it being detected and treated early enough.
Despite NHS assurances that its non-Covid services are open for business, many people across the country are anxious about visiting GPs, hospitals and other healthcare settings. So we'd urge anyone who's concerned about a persistent cough and the possibility of having lung cancer to use the NHS and get medical attention straight away.
Our Medical Negligence Solicitors often see the consequences of a missed or late diagnosis of cancer, and understand how serious these can be. For instance, this could mean much more invasive treatment with worse side-effects, as well as a much smaller chance of survival.
But an early diagnosis can make a huge difference, with about 1 in 3 people with lung cancer living for at least a year after they're diagnosed, and 1 in 20 living for at least 10 years.
We understand that many lung cancer symptoms could be mistaken for other conditions, but if you have the slightest worry about a cough that won't go away or other symptoms, you should speak with your doctor.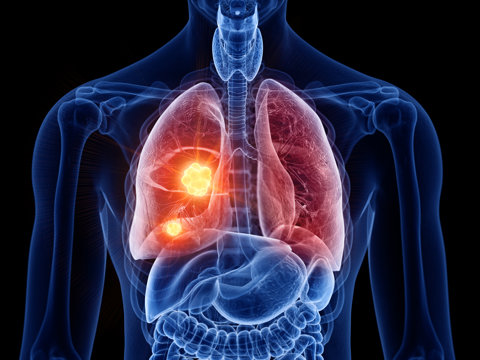 Common Symptoms of Lung Cancer
Possible warning signs that may suggest lung cancer include:
A persistent cough
Regularly struggling for breath
Fatigue
Unexplained weight loss
Coughing up blood
Feeling aches and pains when coughing or breathing
If you start showing any of these symptoms, you should arrange to speak to your GP. They're trained to identify the symptoms that may indicate lung cancer, and can refer you for the appropriate tests.
What if My Lung Cancer is Not Diagnosed?
Sadly, there can be cases where tests for lung cancer aren't interpreted correctly and a diagnosis is missed. So it's just as important for healthcare professionals to recognise the signs.
If doctors can connect a patient's symptoms to lung cancer, you can be referred for the right tests at the right times.
If your cancer is diagnosed later than it should have been and this affects what treatment you received, we can help you claim compensation for medical negligence.
The NHS performs miracles every day, but mistakes can and do happen, so if you've been affected by medical negligence, you should be able to get vital support without worrying about what it costs. So we're here to help you access any care and rehabilitation you may need, and make sure you can cover any financial losses you've experienced because of what happened.
For a free claims assessment with legal advice, get in touch with our Medical Negligence Solicitors and we'll be happy to discuss the details of your claim with you and how we can help you.
Get in touch, today!
Fill in the form below to get in touch with one of our dedicated team members, or call our team today on: 0808 239 0144