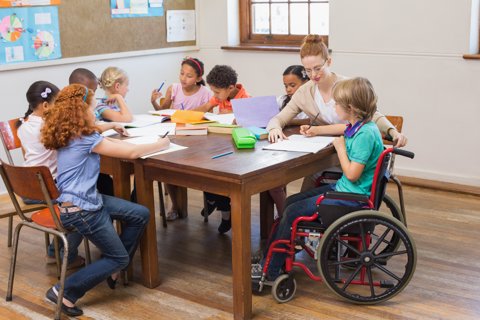 At Simpson Millar Solicitors we have the largest team of Education Law specialists in the UK, and can help you find the right educational solutions for your child, so they receive the support they deserve.
Our Education Solicitors and SEN Lawyers can advise on areas including:
Isolation booths
Children out of school
Discrimination
Home to school transport
School complaints
We know legal terminology can be confusing for parents, so we're committed to being open, straightforward and providing legal advice without jargon.
We undertake both private client and Legal Aid work - in fact, we're one of only two organisation to have a Legal Aid contract. We offer fixed and capped fees for school appeals and can discuss packages to suit each family.
Our Education Matters Community Group
We understand how difficult it can be to get the right education support for your children. It can feel like a constant battle, that you're all alone, and you might not understand your full legal rights.
That's why we've created our community group Education Matters.
We appreciate that there are many other support groups for families on Facebook, but we can offer an extra legal edge. However, it's not all legal talk, as we also run polls, competitions and share useful and supportive articles.
This ensures that, as a group, we can get involved, have a little bit of fun together and get to know one another. Many of our members leave questions about their situation, and this is where we can offer our legal perspective and offer advice on what to do next.
Education Matters Q&A
When we launched our community group, we decided that Q&A sessions could be good for parents, so they can ask for advice on their situation from a Solicitor within the team. We've run a few Q&As already and there seems to be great interest in them, so we're working to understand what times and days' work best for our members.
We're also finding out if they'd be interested in getting support from us in other areas, such as Community Care, Family Law, Conveyancing, Making a Will, Lasting Powers of Attorney, Medical Negligence, Personal Injury, and many more.
Competitions
When we launched our community group, we started with a small competition to get to know our members, asking them to share their proudest parent moment to be in with a chance of winning our Super Craft Pack.
We had some lovely responses and were able to give away lots of prizes. It was lovely to see so many families taking full advantage of the Super Craft pack to have some family fun.
Last month, we ran a competition to ask people to share their magical moment for the chance to win 4 x Merlin Annual Passes worth £560.
#EducationMatters

For advice and help join our Education Matters Facebook community group here
Join our community and share your experiences. If there's something you'd like to see within the group, tell us. We're always looking for ways to help our members.
Get in touch with the UK's Number 1 Education Law team today!
Fill in the form below to get in touch with one of our education law team, or call our team today on: 0808 239 9764