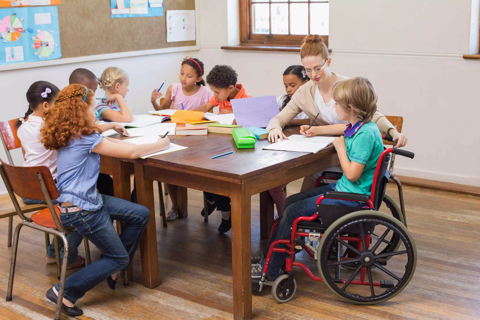 An EHCP (Education, Health and Care Plan) is put in place after a child or young person between the ages of 0 to 25 years old has an Education, Health and Care Needs Assessment.
Once the assessment is complete, if they need additional Special Educational Needs support that can only be provided through an Education Health Care plan, the EHC plan is put in place to meet their needs and to get the best possible outcome for them in education, health and social care.
The Education, Health and Care plan is maintained by the Local Authority and is important for the child as they grow, not only through their time in education but also as they prepare for adulthood.
If you need help and advice about provisions not being met from your child or young person's Educational Health Care plan, get in touch with our Education Solicitors.
Exceptions to the Right to a Personal Budget
The Local Authority does not have to provide a personal budget in some circumstances. If, for example, splitting funds would have a negative impact on services that were arranged or provided by the Local Authority to a large group of individuals or if splitting funds would not be a good use of resources. This could be true where the Local Authority could obtain services for a reduced amount if purchased in a larger package of support. But the Local Authority must consider each individual request for one. They have a duty in law to make this consideration.
If your Local Authority cannot provide you with a personal budget, they will advise you and try to find other ways to personalise the services your child or young person can access.
Receipt of Your Child's Personal Budget
Your child's personal budget can be received in four different ways. They are:
Direct Payments - The money is sent directly to you so you can purchase and manage services as a nominated appointee.
Managed Arrangement - The Local Authority, school or college will hold the money and will find and pay for the support on behalf of your child.
Third Party Arrangement - A direct payment is made to an individual or organisation who has agreed to hold and manage the funds on behalf of your child or young person
A combination of all of the above options.
A parent only has the right to access a personal budget whilst their child is under the age of 16. After compulsory school age (the end of the academic year in which they turn 16) , the young person has their own rights, but parents can manage a budget on their behalf.
Why Choose a Personal Budget?
A personal budget can clearly benefit a child or young person because they can have greater control over who meets their needs. This is especially clear when a personal budget is received in Direct Payments.
Your child or young person must be given an indication of the total amount needed to secure the provision specified in their EHC plan. The Local Authority should agree how the provision will be secured through the personal budget. This will help you or your young person to decide if they want the personal budget to be allocated to them. 
If you decide for your child, or your young person decides to receive their personal budget through Direct Payments, the Local Authority must identify the agreed provision in a written letter of notice. They must also make sure that the total amount agreed provides for all provisions necessary to meet your child or young person's needs.
Difference between Direct Payments and a Personal Budget
Some parents and young people use the term 'Direct Payment' when referring to their personal budget but there are three key differences between a personal budget and a Direct Payment, although a direct payment is still a form of personal budget. These differences will help you decide if Direct Payments will work for your child or young person.
Although your child or young person has the right to a personal budget, they don't have a right to receive a Direct Payment. The Local Authority has the right to refuse these if certain conditions are met. But they will need to give you information about these conditions, along with the other types of personal budget available and contact details of other organisations who provide independent advice on personal budgets.
Even though a personal budget can fund special educational, health and social care provision, Direct Payments can only be used to fund special educational provision (although Direct Payments for health and social care provision can be provided separately through the Care Act 2014 for adults and the Children Act 1989 for anyone under the age of 18).
If you agree with the Local Authority that Direct Payments will be provided, the law considers that it has met its duty to secure the specified provision. The Local Authority has to pay enough money for you to arrange all the provision contained in your child's EHC plan. There is no equivalent legal duty in relation to a personal budget.
Deciding which option to choose for your child or young person can be difficult, but there is help and advice available. Your Local Authority should give you everything you need to make that with all the facts, but often, sadly, they don't.
If you're struggling to navigate an EHC plan and personal budgets, we can help you. Get in touch with one of our specialist Education Solicitors and SEN Lawyers.
Get in touch with the UK's Number 1 Education Law team today!
Fill in the form below to get in touch with one of our education law team, or call our team today on: 0808 239 9764