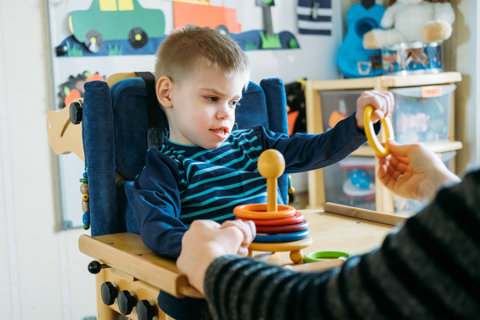 How we helped our client with Cerebral Palsy get a college placement
L has Cerebral Palsy which affects all four of his limbs and sometimes his vision too. He needs others to help him with his care as he uses a wheelchair and has specialist equipment to help with movement and posture. Although L uses few words, he has a communication aid that allows him to be very sociable and he has a great sense of humour.
When L started back at college in the last school year, his parents were concerned that the college were no longer meeting L's needs. L seemed less interested in learning, more emotional and had started using 3 word sentences instead of 5. The college restricted him from driving his wheelchair in some areas of the building and they often removed his communication device completely.
L's parents decided to look for a similar college close to their home but couldn't find one that they felt could support their son with his every day needs.
They eventually found a specialist independent college that was a little too far for them to drive, but luckily it offered residential placements. Although they would have preferred L to stay living at home with them and his sisters, L seemed a lot happier at the new college and started communicating more and telling jokes again.
How our Education Solicitors were able to help
L's parents got in touch with our Education Solicitors. I was happy to take L's case on as I have over 20 years' experience in Public Law and regularly represent clients in Special Education Needs and Disabilities (SEND) Tribunal appeals.
I knew that we needed to make an appeal to the SEND Tribunal to change the name of the college in L's Education, Health and Care Plan (EHCP). I submitted written evidence to the SEND Tribunal before we attended the Hearing, which showed L's progress in his new college compared to the lack of progress he had made at his previous college.
I asked that L's parents and L himself attend the Tribunal Hearing, as well as Ms H, the Pathway Co-ordinator at L's new college.
L told the Tribunal that he preferred the newer college and didn't want to go back to his old one. He impressed the Tribunal with how well at driving and maneuvering his wheelchair he was.
Ms H presented evidence that L could drive himself around completely independently at his new college, which meant he would be less restricted. She also outlined the different kind of therapies that L could now access and commented on his improved mood since starting there.
I presented to the SEND Tribunal that while L's old college saw the risks and prevented him from doing things, L's preferred college saw the risks and taught him how to do those same things safely.
Our client secured their place at the college of choice after the appeal 
The Local Authority did not submit any clear evidence that L had progressed at his previous college in any way and the SEND Tribunal were concerned about the removal of his communication device at his previous college.
The Tribunal found that the college that was currently named in L's EHCP could no longer meet his needs and that the Local Authority should change his EHCP to name his new college.
They felt that limiting the use of L's wheelchair restricted his independence too much as despite needing additional support, L was an adult now. This also meant that the Local Authority agreed to change all references to L's care as being done "by an adult" and changed references to L as "pupil" to "young person" to reflect his age.
L was happy that he could continue his progress at his new college and his parents were delighted that his mood has improved and he was back to his old self.
Get in touch with the UK's Number 1 Education Law team today!
Fill in the form below to get in touch with one of our education law team, or call our team today on: 0808 239 9764