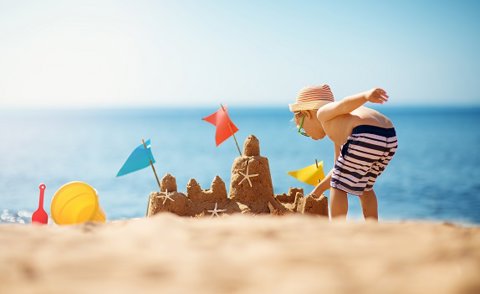 Lawyer Calls Parents to Battle over Unfair School Fines
A challenge by parents who were issued a £240 fine for taking their children out of school to go on holiday has seen the penalty retracted – a decision labelled 'sensible' by Education Law Solicitors at Simpson Millar.
Hannah Manchester, and Neil Hynes' two children Isaak and Liam both attend Manley Park Primary School in Manchester – boasting a 97% attendance record.
Unable to afford a quality family holiday in peak season, the couple decided to take their children out of school during term time.
Hannah explains, "Neil and I are both actively involved and invested in our children's education, and frequently participate in school events ourselves. Equally so, we value the opportunity to give Isaak and Liam a broad range of cultural experiences, and that includes foreign travel. Unfortunately, despite the fact we both have reasonably good jobs, it can be a struggle to afford a normal family holiday once children across the UK break for summer."
"We don't want the kids to miss out on the quality time we feel going away gives us all, so this year we decided to take them out of school a few days before the end of term which was then, for us, an affordable time to book a holiday."

Hannah stresses that it was not a decision they took lightly: "We don't take the boys out of school for just any old reason, but were very confident that the outstanding attendance of both our boys, and the broader educational value of our planned trip meant it was acceptable on this occasion.
Manley Park Primary School's target attendance for the year is 97%. Even with the extra absence for our holiday, Isaak and Liam's attendance was 97.28% for the year. Last year they achieved 99.24% and 99.74% - a record we felt also counted in our favour."

On 20 May 2016 Hannah notified Manley Park Primary School by email of the family's holiday the following Monday. "We told the school of our plan and hoped that they would take into account our kids' excellent attendance record."

"Neil and I agreed that the kids would learn important lessons and gain valuable experiences from this trip which we felt would compensate for a very short absence from school. The trip delivered all of that; including a visit to a capital city, important landmarks, art galleries and museums not to mention of course exposure to Spanish as a language which Isaak studies at school."

On arrival back home the school had responded to Hannah's email explaining that the holiday couldn't be authorised and that the family could be subject to penalty notices. "We didn't think much of it as the letter was very vague and I had almost forgot about the issue when I received the penalty notice from the local education authority over a month later."

"We were extremely disappointed to learn that the school felt it appropriate to refer our kids' absence to the LEA which subsequently issued us with a fixed penalty notice. Considering our children's attendance record, it seemed punitive rather than sensible. It just wasn't right."

Persistent absence is defined by Department of Education guidance as attendance below 90%. With that knowledge, the couple wrote to the school and the LEA – challenging the fine. It worked. "Within four days the local education authority withdrew the fine and issued a warning instead," says Hannah.

She adds, "I am not saying that parents should be encouraged to book holidays in term time; rather I am trying to advocate that schools take a common sense approach and consider the record and performance of the children in question before issuing fines and reporting parents to the LEA."

"Although we now don't have to pay the fine, we are still being penalised by a way of an official warning letter that says we are being monitored should we do something similar in the future."

Education Law Solicitors at Simpson Millar regularly represent parents like Hannah and Neil, who want to challenge non-attendance fines.

One of our Education Law Solicitors said, "Hannah and Neil were absolutely right to challenge the fine issued by their local education authority. The system of issuing fines for parents whose children fail to attend school regularly is not there to punish those who make carefully considered decisions about what is best for their children.
With an attendance record north of 97%, it is very difficult to see why the school saw it necessary to punish this family, other than to try and set an example."

"Although I don't want to encourage families to book term-time holidays on a regular basis, I absolutely think that penalties which are unfair and unfounded should be challenged.
"We need more balance and sensibility when it comes to non-attendance fines for parents, and hopefully we will achieve that if local education authorities are held to account for their decisions in these matters. Families that feel unfairly singled out in this manner should either write a letter to their local education authority or seek legal advice about how they can challenge a fine for unauthorised absence."

Hannah feels the term-time holiday penalty notice scheme is more like a money making operation than a genuine effort to keep children in school in many cases. "I think that local education authorities rely on the fact that only the minority of parents have the confidence to challenge these fines for fear of prosecution. It isn't right, and I want to encourage parents who feel they have a strong a genuine defence to stand up and put their case forward."

"We should always do our best to go away during school breaks, and make sure a holiday doesn't negatively impact on our children's performance. But I also believe that education is many things and should be considered in the context of real life; one where we want our children to grow into balanced individuals who understand and appreciate the world around them."
Get in touch with the UK's Number 1 Education Law team today!
Fill in the form below to get in touch with one of our education law team, or call our team today on: 0808 239 9764