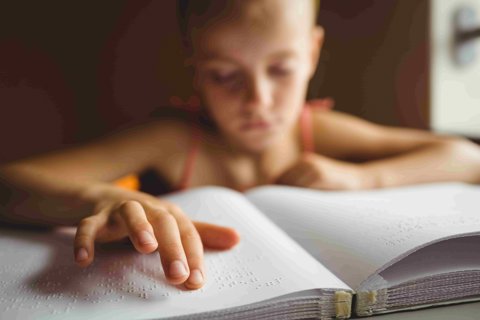 Parents should be fully involved in making decisions about the help and support they'd like to be put in place to support their child's learning. And where this is necessary and suitable, this may include the use of Braille.
Schools are expected to put a certain level of support in place from within their existing resources. So if a child needs more support than what can be reasonably provided by a mainstream school, then an Education, Health and Care (EHC) plan may be required. Access to adapted materials is something that a school would usually be expected to provide, but a high level of 1:1 support and/or access to a specialist teacher will usually require an EHC plan.
If you feel your child isn't getting the support he or she needs, despite the school's best endeavours, or the school is saying that it cannot meet need through its own resources, then an application can be made for an for an Education, Health and Care Needs Assessment (EHCNA). A parent or school can make this request, as well as some other specified people.
It's often wise to discuss a potential request with the school in advance so they can have the opportunity to support it, although their support isn't essential to make a request for assessment.
Requesting an Education, Health and Care Needs Assessment
Making a request for an Education, Health and Care Needs Assessment (EHCNA) should be a straightforward process. All that's required is for the parent (or school) to request for an EHCNA from the Local Authority, setting out why you think one is necessary and submit any evidence you have of your child's Special Educational Needs (SEN).
The Local Authority must then consider the request and respond within six weeks, saying whether an assessment will be carried out or not. Some Local Authorities have specific forms available online which can be helpful to ensure relevant information is included, although they cannot require you to use these.
The Local Authority must decide whether to assess based on the test set out in law, which states that if, having had regard to views and evidence submitted, it's of the view that a child has or may have Special Educational Needs, and that it may be necessary for special educational provision to be made in accordance with an Education, Health and Care (EHC) plan, it must carry out an assessment.
This is quite a low standard for assessment. Unfortunately, Local Authorities sometimes have policies that set a higher bar and turn down a request. If this happens, you'll be able to appeal this decision to the SEND Tribunal, and your Local Authority must give you information about this.
The purpose of EHCNA is to establish all of a child's Special Educational Needs and what provision may be required to meet those needs and to provide relevant outcomes. This would include establishing what provision would be required to meet the child's visual impairment needs, potentially including using Braille.
As part of the assessment, the Local Authority must seek any advice from a child's parent or anyone a young person reasonably requests that the Local Authority seek advice from, such as a teacher for the visually impaired or other professionals that are familiar with the child's needs. A parent can also submit any private reports they think relevant if available.
At the end of the assessment process, the Local Authority may decide that your child's needs can be met through the school's own resources and decide that it's not necessary to issue an EHC plan, or it may decide that an EHCP is necessary. A Local Authority must issue a plan, generally speaking, within 20 weeks of the initial request for an assessment. If these deadlines aren't complied with, parents may wish to seek free initial legal advice from our Education Law Solicitors.
Similarly, if you disagree with a decision not to issue an EHCP then you'll be able to appeal this to the SEND Tribunal, and again, the Local Authority must provide you with information on how to do this and legal advice is available.
So what does this mean for you?
Navigating the Special Educational Needs (SEN) legislation can be difficult but there is plenty of advice and support available. You can download the SEND Code of Practice which is a good starting point for families. There are also a number of charities who can help, and our specialist team of Public Law Solicitors offer free initial legal advice on such matters.
We provide legal advice to parents on all areas of Education Law, including Special Educational Needs and disability discrimination.
Get in touch with the UK's Number 1 Education Law team today!
Fill in the form below to get in touch with one of our education law team, or call our team today on: 0808 239 9764