This is how one mother described her son's situation to Education Solicitor, Esther Salter, last year. Her 16-year-old son Jamie (not his real name) has a range of additional needs, including a diagnosis of autism, a communication and language disorder, cognitive delay, and epilepsy. He also suffers from anxiety, and had experienced years of bullying in the local mainstream secondary school.
Jamie had an Education, Health and Care Plan (often referred to as an EHCP), and received some additional help in school, but his mum was concerned that in order to succeed at college, he would need a different kind of environment.
"He just about coped in a mainstream secondary school, but I think he'll need more support going forwards in sixth form"
What is Phase Transfer?
If your child has an EHCP, and is in the final year of a 'phase' of education (in nursery, primary or secondary school), they will be prepared to change schools or colleges. This change is known as 'phase transfer.'.
During that academic year, the Local Authority has a duty to conduct an Annual Review of the plan, and update it (by March 31st for Post-16 changes, by 15th Feb in all other cases), naming the new placement in Section I for the child to attend from the following September. You should get a draft EHCP, which you can provide comments on and express a preference for a particular placement, and then, by the dates specified above, a final EHCP, which, if you are not satisfied by, you can challenge by way of an appeal to the SEND Tribunal.
How we helped
When Jamie's mum received the amended final EHCP, she was confident that the mainstream further education college named in Section I was not right for her son. She felt he needed a highly supportive environment, with small classrooms, a high level of adult support, opportunities to socialise and work with children like himself.  She also wanted specialists such as Speech and Language Therapists and Occupational Therapists onsite. Jamie had not flourished at his mainstream secondary school, in part due to difficulties with class sizes and bullying.  His mum was concerned that if he was placed in a mainstream environment, he would fail to reach his academic, social and personal potential, so his mental health would suffer. His family had done some research, and had found an independent special college that they  (not run by the Local Authority) that they considered could meet need.
Jamie's mum called Simpson Millar solicitors and instructed Esther Salter, an experienced Education and SEND Law solicitor.  We reviewed the plan and noted that in addition to naming a school that the family did not think was suitable, the plan's descriptions of Jamie's needs showed he had not been comprehensively assessed for several years. As a result, the contents of other areas of his EHCP, such as Section B (which sets out the description of a child's special educational needs) and Section F (the SEN provision required to meet those needs) were out of date and unfit for purpose.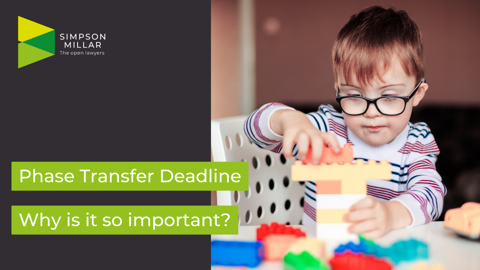 It is important to note that during a Phase Transfer year for a child with an EHCP, a key issue is time. If an appeal of the plan is ongoing when the new academic year starts, your child can be required to attend the school named in the disputed plan until the end of the appeal, even if you do not think the school is right for them. This can create a number of issues, particularly if they experience difficulty around transitions/changes of environment.
Get in touch with the UK's Number 1 Education Law team today!
Fill in the form below to get in touch with one of our education law team, or call our team today on: 0808 239 9764