Can I Claim Compensation for Cauda Equina Syndrome misdiagnosis?
Posted on: 3 mins read

In the UK, cauda equina syndrome is estimated to affect 1 to 3 in every 100,000 people.  Cauda Equina Syndrome (CES) is a rare condition affecting the bundle of nerves at the base of your spine. Early treatment and diagnosis are essential for a good chance of recovery. Any delays in treatment or diagnosis can result in very serious, life changing injuries.
There are many reasons why cauda equina syndrome could be delayed or misdiagnosed including:
Missing or failing to further investigate symptoms
Failing to refer you to a specialist
Misinterpreting test samples, x-ray scans or other medical results
If you or your loved one has been affected by a delayed/ misdiagnosis, speak to our specialist Medical Negligence lawyers may be able to help you claim compensation. Our team are experts in dealing with Cauda Equina claims, and have heled many people get the compensation, care and support they deserve.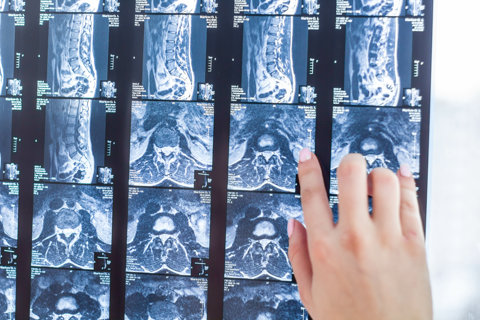 What are the symptoms of cauda equina syndrome?
Cauda Equina Syndrome can occur if the nerves at the base of the spine are compressed. It can sometimes be hard to diagnose CES as symptoms can vary and may develop slowly. The early symptoms to look out for if you suspect cauda equina syndrome are:
Lower back pain
Numbness in genitals or anus
Weakness in both legs
Abnormal bladder function
Abnormal bowel function
If you've developed any of these symptoms, it is important to contact your GP for medical advice. As the sooner it's diagnosed and treated, you have a better chance at a full recovery. Every healthcare professional has a duty of care to protect their patients and support a patient's wellbeing. But if you've been to your GP regarding your CES symptoms and they have failed to refer you for further investigations or your diagnosis was missed on an MRI scan, you may have a medical negligence claim.
Why is Early Diagnosis of so Important?
In 2021, a study found 40% of patients who were diagnosed with CES were no longer able to work due to long term medical problems such as faecal incontinence, genital numbness and lower back pain. If diagnosed early enough, then patients can make a speedy recovery. Treatments can include:
Surgery- which would help improve motor deficits, urinary and rectal function
Drug therapy- to reduce swelling and pain
Intermittent self-catheterization- which involves inserting in a catheter (tubes) into the bladder to recover bowel function
Early diagnosis could also prevent any long-term medical problems from occurring such as continuous pain, paralysis or permanent disability. However, CES misdiagnosis and delayed treatments can result in patients being unable to work and live a normal life. As a result, you could be facing financial difficulties which may be impacting your ability to support your loved ones and quality of life.
Our expert Medical Negligence Lawyers will offer you a free case assessment, we'd be happy to speak to you about your situation and discuss whether you have a claim. Your compensation settlement could help you receive the right care, rehabilitation and support you need for your recovery.
How Simpson Millar can help
Our dedicated Medical Negligence Lawyers have years of experience helping clients who believe their CES symptoms were not identified or treated quickly enough by their healthcare providers. As part of your claim we will help you obtain a medical report from an independent medical specialist, which will support how much compensation you could receive.
Our team have helped clients recover thousands of pounds in compensation for Cauda Equina Syndrome Claims. An example is we helped our client receive £145,000 in compensation for cauda equina due to a delayed diagnosis by the healthcare professionals. We will offer you the same support regarding your claim, so you can access vital treatment and long-term support.
Contact us today for a free case assessment, we will take the time to understand the details of your case and tell you if we think we can help you. We handle most medical negligence claims on a No Win, No Fee basis – so you won't need to worry about paying any legal fees unless your claim is successful.
Get in touch, today!
Fill in the form below to get in touch with one of our dedicated team members, or call our team today on: 0808 239 6043