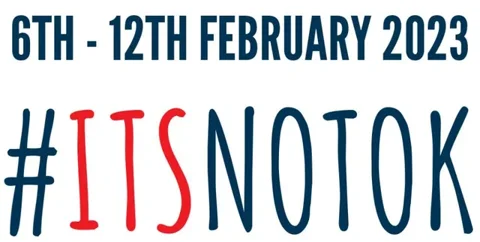 Sexual Abuse and Sexual Violence Awareness Week 2023
Posted on: 2 mins read

How to get involved
Get involved and show your support by tweeting the #itsnotok. Thousands of people across the UK will be tweeting this to raise awareness this week. This is a chance for everyone to come together and show their support to all the survivors. This week encourages all of us to acknowledge what sexual abuse is by helping to raise awareness and helping victims to rebuild their lives.
View the It's Not OK website for more information
There are also many other ways to get involved in the Sexual Abuse & Sexual Violence Awareness Week, which are:
Participate in social media conversations and involve your local media.
Fundraise by taking part in local charities.
Attend local events with likeminded people.
Make sure to use the hashtag #itsnotok and follow @ItsNotOK2022.
At Simpson Millar we support raising awareness and our dedicated team will provide support to those who reach out to us.
NHS Support Campaign for Victims and Survivors
In 2022 the NHS encouraged victims and survivors of sexual and domestic abuse to come forward for NHS help and care. This is part of a major campaign, backed by a £20 million boost, to help specialist services over the next three years.
"It's such a difficult time for the country, with public services struggling to secure funding, so it's fantastic news that there will be a £20 million boost to services for survivors of sexual abuse.
There's a crucial need for NHS services to support survivors of sexual abuse, especially after the pandemic, so this is such a welcome boost. We hope it will encourage survivors of abuse to come forward, knowing that support is available."
How we can help
If you've already reported your physical and/or sexual abuse to the police and you'd like to find out more about making a claim, get in touch with our specialist Abuse Solicitors for confidential legal advice and support.
Our compassionate and supportive team members have a track record of helping many survivors. We know that no amount of money can make up for your suffering, but we're here to help you get closure and the justice you need to move forward.
Want to speak with our abuse claims team in confidence?
Fill in your details and one of our team will call you back