The National Association for People Abused in Childhood (NAPAC) has partnered with law firm Simpson Millar to work across a number of projects supporting survivors of childhood abuse.
As part of the partnership, Simpson Millar, which has offices in Leeds, Cardiff, Liverpool, Manchester, Bristol and London, will help the charity to prepare free online resources. In addition to this, it will also instruct NAPAC's partner organisations in various legal processes.
NAPAC provides free support around the country to adult survivors of childhood abuse, and with offices in London and Stockport, Simpson Millar are well placed to help the charity.
NAPAC runs four main services:
They run the UK's only free national telephone and email support service for all adult survivors of childhood abuse
They hold intensive psycho-educational support groups for survivors of abuse – the face-to-face support groups are also now held online
They provide extensive training for professionals who engage with adult survivors of childhood abuse and anyone at risk of vicarious trauma
They conduct research and advocacy, using data through their own research, and working in partnership to raise survivors' voices in policy and practice across the UK
Hywel Thomas, Senior Associate Solicitor for Simpson Millar's abuse department, said: "We are really pleased to have partnered with NAPAC.
"As a department that sees many survivors of abuse, if we can help even one person it will be worth it.
"The work NAPAC does across helplines and their website, and the support groups they put on, helps bring together people who have endured similar situations and may not have anybody to speak to.
 "We are delighted to be able to work with them to offer our input and advice also. As a charity that relies on donations to continue to operate, we are also looking forward to taking part in some fundraising initiatives for them across the year too."
Kim Bond, Fundraising Manager at NAPAC, said: "It was important to us that we work with a team that we can trust to act in the best of interests of survivors, and to listen to the survivor's needs.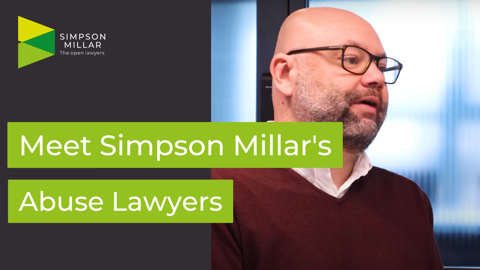 In our experience Simpson Millar's abuse law team has been empathetic, caring and professional, and we have seen first-hand the fantastic work that they do.
"Simpson Millar's commitment to a trauma-informed approach has not gone unnoticed by us, and it is their professionalism and willingness to adapt that led to them being an obvious choice to pursue resource and training development with."
"We have a large bank of free resources on our website and regardless of your age, gender, ethnicity or circumstance we will be here when you are ready to talk."
If you are a survivor of childhood abuse, please don't hesitate to contact NAPAC, or Simpson Millar, for impartial support and advice.
Get in touch, today!
Fill in the form below to get in touch with one of our dedicated team members, or call our team today on: 0808 239 1287