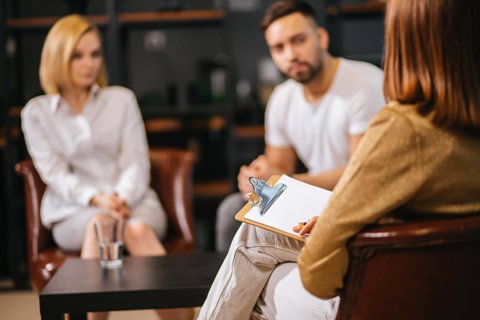 How Does Family Mediation Work?
Posted on: 1 min read

Mediation can provide a constructive and informal method for resolving family disputes and issues surrounding divorce without needing to go to Court.
Whilst mediation is not a replacement for legal advice or representation, it can help you to reach agreements in a way that is amicable and promotes open communication between both parties. This will be done with the support of an independent third party who will oversee a series of mediation sessions.  
Our Family Law and Divorce Solicitors understand the importance of resolving family disputes amicably wherever possible. We will advise you on the process of mediation and point you towards services that could help you.
For further advice, get in touch with our expert Family and Divorce Law team.
FAQs about Family Mediation
Often, mediation will be used to address and resolve issues surrounding a separation or divorce.
In April this year, new legislation came in that allows married couples and civil partners to separate without having to place blame – this is known as No Fault Divorce.
The No Fault Divorce Bill has also removed the ability for an ex-partner to dispute a divorce without valid legal reasoning, which could lead people to wonder if there's still a need for mediation in divorce proceedings.
But it's important to remember that No Fault Divorce legislation does not handle issues related to childcare arrangements or finances. Mediation still has a significant role to play in resolving disagreements in these two key areas. For example, there may be disputes surrounding:
Jointly owned property and assets
Child arrangements for school holidays and special occasions
Short term financial arrangements (how upcoming bills will be paid)
Child maintenance and other ad hoc payments
Who will move out of the family home
The mediation process will vary depending on the individual circumstances of each family using the service. The ultimate goal will be to resolve your issues and find an amicable way forward that benefits your family and importantly, any children involved.
In your first meeting, the mediator will assess how suitable you are for mediation and let you know if the process is likely to be helpful for you. In situations where there has been domestic violence or child protection issues, mediation is not likely to be recommended.
If the mediator thinks you should go forward, they will identify the key disagreements you and your ex-partner have as well as trying to find common ground where you can relate to each other. If children are involved, they may also be asked directly about their feelings and wishes, but they must consent to do this first.
Usually, successful mediation will take around 3-5 sessions, but the process can be as long or as short as you need it to be in order to resolve the issues you have. There won't be any deadlines forced upon you, so you'll have time to think about any proposals or decisions you make throughout.
There are many reasons why people should consider using a family mediator, here are just a few:
A Quicker process – usually the two parties are able to come to a resolution within six months using mediation with minimal disruption for family members.
More control over negotiations – through mediation, you'll have the opportunity to put forward proposals for how things should work going forward. This can be particularly important when there are children involved.
Maintaining relationships – you don't need to be best friends with your ex-partner, but mediation can help you set out how you'll communicate with each other to make future arrangements.
Complete confidentiality – anything you discuss with your mediator will remain confidential and will not be used against you or your ex-partner if you do need to go to Court. The only scenario where information may be shared is if a child is deemed to be at risk of harm.
Impartial and family-focused – mediators are completely unbiased, and their main aim will be to work towards an outcome that is beneficial for all parties involved.
Our Family Law and Divorce Solicitors are experts and can help you to get the most out of the mediation process. We'll advise you on what will be involved as well as preparing for you each meeting so that you can come away feeling that you've got the answers you need.
Mediation requires both parties to think ahead, and it can be difficult to know if you're making the right decisions at times. We can provide you with legal advice throughout, so you'll feel confident that any proposals put forward are negotiated in a way that will meet your family's future needs.
Some of our Family Law Solicitors are members of Resolution, an organisation of professionals committed to resolving Family Law issues constructively. We'll do all that we can to help you secure a successful outcome through mediation, removing the need to go to Court.
Get in touch with our experienced Family Law and Divorce team today to find out more.
Get in touch, today!
Fill in the form below to get in touch with one of our dedicated team members, or call our team today on: 0808 239 3465