Taking legal action after suffering any kind of abuse takes an immense amount of courage. Unfortunately, we know that some recent and well publicised abuse claims have been unsuccessful, and this can deter people from taking the difficult decision to come forward and start the process.
This is why it's so important to have an understanding of the main reasons abuse claims fail, so that a proactive approach can be taken.
In our experience as Abuse Lawyers, we've found that there are certain factors that contribute to abuse claims failing more than others and we've discussed some of these in detail in this article.
For further advice that is tailored to your situation, get in touch with our specialist Abuse Law team.  
Limitation Periods
We tend to find that the majority of unsuccessful cases fail because the primary limitation period has expired. Generally speaking, the time limit in place for making an abuse claim is three years from when the abuse took place or, in cases where the abuse took place in childhood the time limit is three years from your 18th birthday.
Despite this, due to the nature of these claims, the Courts take a more sympathetic view to the time limit in these cases than in other personal injury cases. Consequently, the Court does have the ability to allow these claims to proceed out of time.
However, in order to allow a claim to be brought out of time, the Courts will still need to be satisfied that a fair trial can still take place. If you're claiming for abuse that took place a long time ago, there is always a risk that important documents and records may have been lost or key witnesses could have passed away; these are factors that the Court will consider when deciding if a claim can be brought out of time.
Making a claim for abuse outside of the limitation period is not impossible and we've helped numerous people bring forward successful historic abuse claims. However, where it's possible, we would advise seeking legal advice early to increase your chances of obtaining a fair outcome.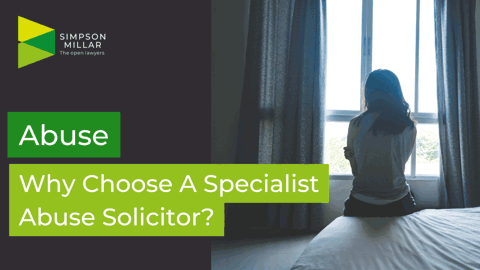 How can a Specialist Abuse Lawyer Help?
Our Abuse Solicitors are experts and have years of combined experience in dealing with the many complexities that surround Abuse Law.
We understand that there may be obstacles that come up throughout the claims process, but this shouldn't deter you from taking legal action. We'll use our knowledge and expertise to help you navigate any potential pitfalls and ultimately prevent them from affecting the outcome of your claim.
We'll work hard to ensure your claim is as stress-free as possible and keep you updated at every stage, so you're always informed. For more information and to find out if we can help you, get in touch with our specialist Abuse Lawyers.
Get in touch, today!
Fill in the form below to get in touch with one of our dedicated team members, or call our team today on: 0808 239 1287