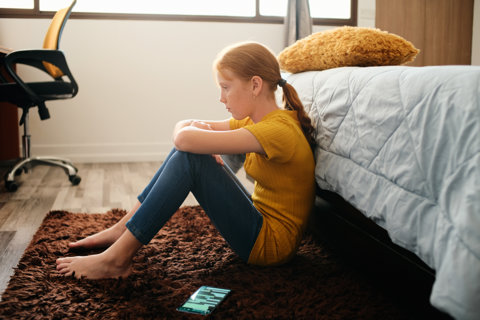 What are the Signs of Child Sexual Abuse?
Posted on: 2 mins read

Even if a child doesn't reveal they are experiencing sexual abuse, there can be numerous indicators pointing to a problem – both behavioural and physical.
This may include being wary of people they know, self-harming, changes in their eating habits and bodily injuries such as bruises. Recognising these signs of child sex abuse can be a vital step in ensuring a child can be removed from a dangerous situation and empowered to speak out against their abuser.
Behavioural Indicators of Child Sexual Abuse
The following changes of behaviour could potentially suggest that a child is the victim of sexual abuse.
Avoiding any type of physical contact
Refusing to get undressed or change clothes in front of other people
Sexual knowledge or activity that wouldn't be expected from a child of that age
Nightmares
Difficulty sleeping
Wetting the bed
Running away from home
Alcohol or drug misuse
Changes in eating behaviour
Fear of people they don't know, and a reluctance to be alone with them
Physical Indicators of Child Sexual Abuse
Bruises
Bleeding, pain or itching around the genitals
Pregnancy or sexually transmitted infections
A child may also be abused online, which may be reflected in their behaviour. For instance, they may:
Be unwilling to tell others about their online activity
Be secretive about who they're talking to on their mobile phone
Start spending much more time on social media, playing online games, texting or browsing the internet
Significantly reduce their amount of online and wider digital activity
Who is at Risk of Child Sexual Abuse?
Any child can be subject to sexual abuse, and in many of the cases which our Abuse Solicitors deal with, the child is abused by a person known to them. For example:
A member of the family
A family friend
An adult in a position of trust, such as a teacher
A foster carer
According to official figures, 9 out of 10 children know or are related to their abuser, while 80% of child sex abuse occur either where the child lives or in the abuser's home.
However, there may be cases, particularly when it comes to online child abuse, where it could be a complete stranger trying to establish a relationship with a youngster through social media, a web forum or chatroom.
In many child abuse cases, the victim of sexual abuse may already being going through some difficulties at home, such as neglect, this can work to an abuser's advantage as the child may not be adequately supervised or get enough attention, or they may be less likely to be believed if they ever speak out about the abuse.
Children with disabilities, meanwhile, are 3 times more likely to be victims of sexual abuse, particularly if they have speech or language difficulties.
Get in touch, today!
Fill in the form below to get in touch with one of our dedicated team members, or call our team today on: 0808 239 1287