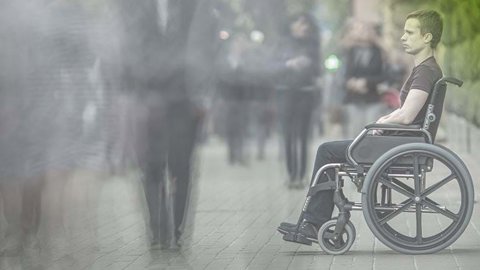 Rehabilitation for a Spinal Injury
Posted on: 3 mins read

Helping you claim compensation for a spinal cord injury isn't our only priority.
We also want to help you rebuild your life and to live as independently as possible after being injured.
So we'll work with our trusted network of independent medical experts, including doctors, psychologists and therapists to identify your needs, as well as case managers who can put together a rehabilitation package that reflects your specific situation.
This could include access to:
Physiotherapy - depending on the extent of your injury, this will include access to the latest technologies such as FES (Functional Electrical Stimulation) TENS and use of Exoskeletons
Bladder and Bowel management
Sexual Rehabilitation
Cardiovascular Rehabilitation
Pulmonary Rehabilitation
Skin Care
Dietary Advice and support
Surgery
Occupational therapy
Counselling
Specialist equipment such as mobility aids and home adaptations
At-home nursing care and assistance
Rehabilitation nurses
Pain management treatment
Help with transport costs
We'll also push for you to get the support you need as soon as possible, as you shouldn't have to wait for your claim to settle when you need specialist help straight away.
If the party we're claiming against accepts responsibility for your injuries, we could apply for interim payments of compensation.
We also have close links to many charities and organisations, who can provide you with vital information and support from people in a similar situation, which can help massively as you learn to live with your injury. In fact, we're Trusted Partners of the Spinal Injuries Association, the leading national charity for spinal cord injured people and their families.
It's essential you get the support you need as soon as possible after suffering a spinal cord injury, and early access to rehabilitation can make a big difference to your future, both physically and psychologically.
This will be first and foremost in our minds as we work to reach a settlement that truly meets your needs.
Can I Get Private Treatment?
Yes. Specialist NHS Spinal Injury Centres provide superb support to patients, but capacity can be limited and people with spinal injuries often have to be treated in a general hospital while they remain on a waiting list.
So we can arrange for you to get privately funded treatment, which means you can get the rehabilitation you need without delay.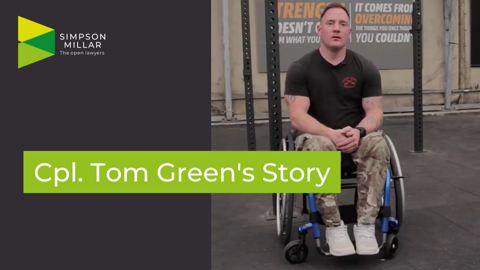 Simpson Millar Client Stories - Cpl. Tom Green talks about his injury and the power to overcome
Our client Client Cpl. Tom Green had a serious accident whilst taking part in a charity bike ride. He talks about his experiences as well as the team from Simpson Millar and how we were able to help.
Our overall aim is to get you back into the position you would've been in had your spinal injury not happened, at least as much as possible.
With our help, you can get the support you need when you need it and learn how to best live with your injury.
Get in touch, today!
Fill in the form below to get in touch with one of our dedicated team members, or call our team today on: 0808 239 3227