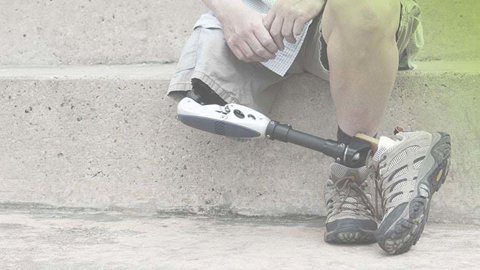 How Much Compensation Can I Get for an Amputation?
Posted on: 3 mins read

In the most severe amputation cases - where both arms or legs have been amputated and you've suffered significant financial losses - you could be awarded more than £2,000,000 in compensation.
If both hands have been amputated, a compensation settlement could be worth more than £1,000,000 when your financial losses are considered. A moderate amputation claim, such as a below the elbow amputation, may be valued at up to £500,000.
However, the amount of compensation paid out will depend both on the type of amputation you've had and the financial impact it's had on your life, such as loss of earnings and the cost of care and rehabilitation, so these are just rough guidelines as to what you could receive.
For more information see our Amputation Compensation Payouts Guide.
At Simpson Millar we have two teams of specialist Solicitors who deal with amputation claims, Medical Negligence Amputation and Serious Injury Amputation. Both teams offer a free consultation with legal advice, and can deal with claims on a No Win, No Fee basis.
We can assess your situation and give you an idea of how much compensation you could receive.
Our clients rate us as
'Excellent'

4.5 out of 5 based off 2453 reviews
What Compensation Can Cover
An amputation compensation settlement will be tailored to your unique situation and circumstances, but may include the following:
Pain and Suffering
Also known as General Damages, these will reflect the impact that your amputation has had on your overall quality of life. Typically, these compensation awards can range from £15,000 to £240,000 depending on the individual's circumstances.
Care and Assistance
When an amputee requires outside help with daily tasks, such as getting dressed, cooking and cleaning the home, the cost of this can be included in our valuation of your claim. You can still claim if you're relying on voluntary care provided by members of your family.
Prosthetic Limbs
A prosthetic arm or leg needs replacing every few years, so you need to have the financial means of getting a new prosthesis if you lost your limb through no fault of your own. We'll also include the cost of any prosthetic fitting and maintenance costs in our valuation of your claim.
Moving Home or Adapting a Property
If you've had an amputation, your current home may no longer be safe and suitable for your needs. In which case, we can push for you to receive the money you need to either move to a more appropriate property or make adaptations to your existing home.
Loss of Earnings
Also known as Special Damages, if you've been unable to work since your amputation and your long-term career prospects have been badly affected by what's happened, we'll calculate your past and future loss of earnings and loss of pension, and include this in our valuation of your claim.
The aim is to get you back in the financial position you'd have been in had you not been injured and ensure you're able to live as independent a life as possible.
Get in touch, today!
Fill in the form below to get in touch with one of our dedicated team members, or call our team today on: 0808 239 3227