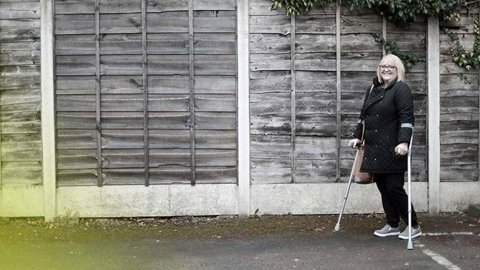 Claims for Knee Injuries caused by Working Conditions
Posted on: 4 mins read

Your employer is responsible when you have an illness or injury which was caused or made worse by your job or working conditions. So if you've suffered your knee injury because your employer has failed to meet health and safety requirements, you could be entitled to compensation.
Case Study: £15,000 Compensation for Repetitive Strain Injury in Knees
Whilst anyone can suffer a knee injury at work, certain working conditions increase the risk. These include:
Kneeling for long periods of time
Working in a manual job without being given proper breaks
Using tools such as a knee kicker without proper supports
Knee pads and supports provided not fit for purpose (e.g. worn out)
To make a claim get in touch with our Industrial Disease Solicitors for free legal advice. Ask if we can deal with your case on a No Win, No Fee basis.
Employers Liability Claims
When an employee or a worker is injured in an accident or incident in the workplace, in nearly all cases, the claims for personal injury compensation are made against the employers' liability insurance provider (insurer), and not the employer.
In England and Wales it is illegal for an employer to terminate the employment of an employee who makes an accident at work claim, or to discriminate against, or treat an employee differently, after an employee requests that a work related accident or incident is recorded in the workplace accident book.
Employers' Legal Responsibility
Your employer has a legal responsibility towards you concerning health and safety. Many are aware of health and safety requirements in relation to injuries, but less so about illness and disease. So if your employer fails to take all reasonable measures to protect you whilst you go about your day-to-day duties, you may be able to make an industrial disease claim, and receive compensation and rehabilitation support due to being injured at work.
You have 3 years from your diagnosis to make an industrial disease claim. Therefore, it often does not matter that you no longer work for that company, even several years down the line.
Our Industrial Disease Solicitors are experts in tracing those responsible for injuries. If you have had a long working history with different employers, or your employer has gone out of business, we'll be able to trace those responsible through thorough investigation.
For free legal advice call 08002605010 or request a callback.
Common Work Related Knee Injuries include
Beat Knee
Beat Knee is a type of repetitive strain injury (RSI). Once more familiarly known as 'Housemaid's Knee', Beat Knee is caused by continuous, repetitive strain on the knee, often sustained over many years.
Doctors refer to Beat Knee as prepatellar bursitis, where the bursae - small, soft sacs of fluid around the knee joint which reduce friction and allow easy movement - become inflamed. As the bursae are strained through injury or wear and tear, they fill with synovial fluid to cushion the tendons from further damage. As a result, the swollen bursae hinder the movements of the tendons and nearby soft tissue.
Beat Knee Symptoms include:
Severe pain or discomfort, in the form of a sharp ache or burning sensation, that becomes more intense the more you use your knees in the same way
Tenderness of joints to touch or minor movements
Reduced mobility and 'locked knees'
Swelling and/or soreness around the joint or tendons
Beat Knee symptoms are typified by immediate pain that can arise very suddenly. If you suffer sudden pain, it's likely to subside after a period of rest. However, recurring inflammation in the same area, as with most forms of RSI, could be more serious.
Beat Knee is especially common in the mining industry, where miners are frequently forced into awkward crouching and kneeling postures for long periods as they work. People who lay tiles, floors and carpets or deal with under-floor plumbing and electrical installations are also susceptible.
Osteoarthritis
Osteoarthritis can affect several areas of your body, such as:
Hip and knee joints
Elbows, fingers and thumbs
Wrists
So if you notice changes to your joints or symptoms, including joint movement pain and stiffness, grating or grinding feelings or swelling in your knees, you may have started to develop osteoarthritis and should speak to your doctor.
A doctor be able to provide a proper diagnosis and evidence of your injury, and then assess the stage of osteoarthritis that you could be at. The doctor may also be able to help you understand how it could have happened and provide you with information on your treatment options.
Osteoarthritis often comes about because of activities that occur in a person's day-to-day life, rather than a single sudden injury. So if you put your knees and joints under constant stress, they can suffer damage, and sometimes the body cannot repair itself.
Common Causes of Osteoarthritis are:
Damage to ligaments, tendons and muscles
Inflammation of the joint or bone, often including swelling
Cartilage damage
Over time, repetitive wear and tear and/or forceful movement of your knees can wear down the joints used in the movement. Your employer should provide you with the proper equipment to keep you safe whilst carrying out your duties, as they should be aware of any risk factors. If they fail to do so, you can end up with an injury or illness such as osteoarthritis.
Repetitive Strain Injury
A repetitive strain injury (RSI) is normally caused by repeated muscular movements without enough rest between each movement. Over time, muscles, tendons, nerves, and cartilage are affected by the prolonged pressure, and it becomes painful to move.
To make sure you don't do any long-term damage, any RSI symptoms needs a period for recovery. It's exactly the same with Beat Knee; in fact, there are many cases where Beat Knee has been ignored, leaving sufferers in great pain for the rest of their lives.
Get in touch, today!
Fill in the form below to get in touch with one of our dedicated team members, or call our team today on: 0808 239 3227