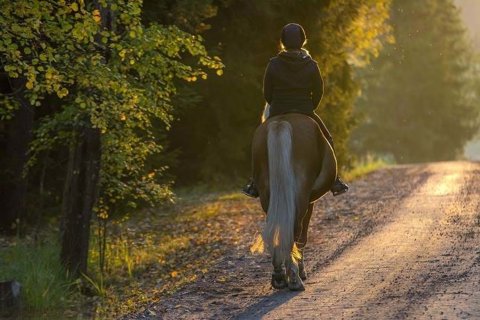 Claiming Compensation for a Horse Riding Injury
Posted on: 2 mins read

Horse riding is a popular hobby and sport but accidents can happen, no matter how experienced of a rider you are.
While many situations can be out of your control, if you're seriously injured in a horse riding accident, and it could have been prevented by someone responsible for your safety, we could help you claim compensation.
Whether your accident happened at work, an event or on the road, we can help you access the right support and treatment for your injuries.
Get in touch with our Personal Injury Solicitors for a free claims assessment today.
How do Horse Riding Accidents Happen?
Horse riding accidents can happen in many different ways and settings, and to both experienced and inexperienced riders. Common examples include:
Road traffic accidents – sometimes horse riders use roads which can put them at risk of not being seen by a passing vehicle. Horses can also become spooked by oncoming traffic. While riders are bound by the Highway Code to show a duty of care towards road users, drivers are also required to take care when approaching horses on roads. If they fail to do so, this can cause a serious accident and injury to the horse and rider.
Accidents at work – employers are responsible for your health and safety at work. If you work with horses, and you're injured by a horse because your employer didn't put protective measures in place for your health and safety, you could be entitled to compensation for your injuries.
Competitive accidents – if you're competing at a horse riding event, the organisers should have put in place protective measures for both spectators and competitors. You could claim compensation if you're injured at an event because of the negligence of the organisers.
Faulty or poorly-fitted equipment – it's important that riders have the correct clothing and equipment to protect them from injury. Riding centres and stables are responsible for providing well fitted and high-quality equipment and clothing to all riders in their care. Poorly-fitted equipment, such as saddles or reins, could put riders at risk of an accident.
Unpredictable horses and inexperienced riders – riding instructors have a duty of care to their riders, which includes making sure that they're paired with a suitable horse for their level of experience. If an inexperienced rider is paired with a difficult horse and loses control of them, this could lead to a serious injury.
Most horse riding accidents will only result in minor injuries, such as cuts, sprains and bruises. But serious accidents can and do happen, and in worst case scenarios, they can be fatal.
Common Horse Riding Injuries Include:
Even if a rider is wearing a helmet, head injuries and concussion are still quite common in horse riding accidents.
More serious head injuries include:
Skull fractures
Brain haemorrhages
Damaged brain cells
Cerebral oedema (when fluids build up around the brain and cause swelling)
Fortunately, serious spinal cord injuries are rare in horse riding accidents but when they do happen, the effects can be life-changing.
A spinal cord injury is when the vertebrae in the spine are fractured or dislocated, causing pressure on the nerves within the spinal cord. This then affects the brain's and spine's ability to transfer messages to each other.
Serious spinal cord injuries can leave people with paralysis, difficulty breathing and pain in their neck, head or back.
While many riders will understand the risk of minor breaks and fractures when horse riding, a severe break can have a long-lasting and damaging impact. Some bone injuries can get better with long-term physiotherapy but others can cause long-term problems, and even affect a rider's ability to continue horse riding.
Get in touch, today!
Fill in the form below to get in touch with one of our dedicated team members, or call our team today on: 0808 239 3227