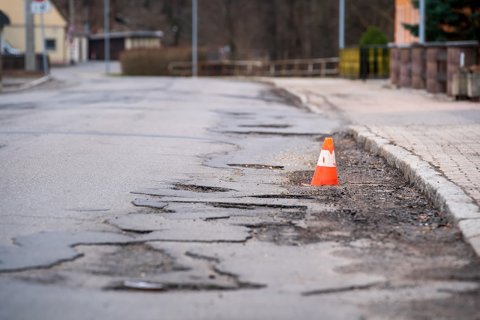 Cycling UK has reported that 156 Local Authorities spend total of £43.3 million on pothole claims.
Your Council, Local Authority and the Highways Agency are responsible for maintaining the standards of the roads we use. The Highways Agency each year spends approximately £900 million ensuring that the roads they are responsible for are in a fit state to be used by the public. Despite this, many people will trip and fall as a result of a pothole.
If you've been injured in a pothole accident, contact us for free legal advice and to see if you have a claim.
What is a Pothole?
Cracking and chipping can occur in a road when extreme weather hits. When water gets into these holes, especially in wintery weather, they begin to freeze and thaw. These holes then develop into potholes. 

If a pothole is extremely large then your local council or those responsible for the road will seek to repair it as soon as possible or at least maintain it until they can fully repair it. If it is a smaller pothole then it may be left until maintenance is scheduled to deal with the problem. 
Who is Responsible for the Pothole?
If you suffered an injury on a "trunk road" then these will usually be maintained by the Highways Agency, who are part of the Department for Transport. A trunk road is usually a main road.

Your Local Council are responsible for repairing and maintaining the road and receive money from the government to perform this task. You can report a pothole to your Local Council for repair through their website. Reporting a pothole may also be favourable for you if your personal injury claim gets to Court and makes you appear as a "good citizen". 

If the pothole you fell in was on a private road or a road that is not taken care of by the Local Authority, the road owner or properties on that road will be responsible. To bring a claim against these parties you will need expert legal advice.
How Do I Make a Pothole Claim?
Making a claim for a pothole injury could not be easier. You should aim to find a No Win, No Fee Solicitor that is experienced in road accident claims. The Law Society has set up an accreditation scheme, the Personal Injury Accreditation Scheme. It has some of the best personal injury lawyers in the UK. 

A personal injury claim could potentially include compensation for your actual physical injury and any psychological injury you may have suffered from in the process. 

You have 3 years from the date of the pothole accident to make your claim, after this you can no longer seek compensation for your injuries.
What will My Solicitor Need from Me?
To make the personal injury claims process as simple as possible your Solicitor may need the following things:
Pictures of the pothole where you fell
Names and contact details for any witnesses to the accident and/or to how long the pothole has been present
Details of your injuries, such as medical reports from your doctor
The date of the accident and where it happened.
Your Solicitor will be dedicated to getting the best result for you and providing them with as much information as possible will only help to increase the chances of your success.
How Much Compensation will I Get for a Pothole Injury?
Compensation for personal injuries suffered from your accident will be split into 2 categories:
General damages is a lump sum of money that will cover your pain and suffering
Special damages cover any 'out of pocket' expenses you incurred, for example time off work, medical appointments and prescriptions.
Your Solicitor will aim to resolve your case before it reaches the Court. This means that you can avoid going to Court whilst still getting the full benefit of your compensation claim.
This information was originally published on our website on 29/08/2013.
Get in touch, today!
Fill in the form below to get in touch with one of our dedicated team members, or call our team today on: 0808 239 3227