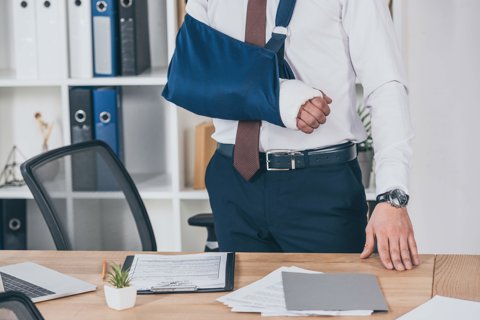 Making an Accident at Work Claim
Posted on: 4 mins read

If you have sustained injuries as a result of an accident at work, you may well be entitled to make a claim for compensation and rehabilitation support. But how do you make a claim and obtain compensation while ensuring that all your needs and circumstances are taken into account?
The first step is to contact Personal Injury Solicitors that specialise in employers' liability claims who will provide you with free legal advice, and who can deal with your claim on a No Win, No Fee basis.
When you contact our Personal Injury Solicitors we can review the details of your accident at work and provide you with a free initial assessment of whether your claim is likely to be successful.
Get in touch with our Personal Injury Solicitors for a free claims assessment.
The Accident at Work Claim Process
At the start of an accident at work claim, a member of our New Processing Unit makes an initial call, which involves taking instructions including details about the accident, your injuries and any financial losses such as lost earnings. They will carry out conflict checks including an ID check, as well as a risk assessment, which involves answering a number of questions.
At this stage, you'll be advised if we can deal with you claim on a No Win, No Fee basis. The outcome of the assessment is reported to a supervisor within the personal injury department for approval and then the case is allocated to a case handler who specialises in work accident claims. The case handler is also required to confirm whether or not limitation is an issue (if the accident happened in the last three years) and if we have third party details.
Documents to Complete
You'll be sent an initial pack which includes funding arrangements, a medical consent form, a losses form and an accident questionnaire to complete and return. In order to submit a claim, this is done through the Personal Injury Claims Portal if the claim has a compensation value of £1,000- £25,000.
A document called the Claims Notification Form is completed and uploaded and this constitutes formal notification of a work accident claim. It's submitted by email to the named insurance company for your employer that a loss has occurred. Your case handler will advise you about the next steps involved with the process.
If our Personal Injury Solicitors consider the value of your claim is likely to exceed £25,000 (called a multi-track case), then we proceed by sending a Formal Letter of Claim outside the Claims Portal to your employer/third party regarding your accident.
We'll notify them that the claim isn't suitable under the Personal Injury Portal and set out a clear summary of the facts in the case, such as the circumstances of the accident, the nature of the injuries you've sustained and what documents we require from them. This Letter of Claim should provide sufficient information for the third party/defendants to investigate their potential liability and the likely value of the claim.
Liability for the Accident
In order to succeed with your claim, it's necessary to prove who was to blame and that your employer/third party responsible was negligent or at fault, either entirely or partly, for your accident and the resulting injuries.
Under the Personal Injury Protocol, the defendants are given up to 3 months from the date they receive the Letter of Claim to investigate your allegations. By the end of this time, they must confirm if they admit fault (liability) for your injuries or not. If denied, the defendants must provide evidence in support. Defendants will deal with this by way of disclosure of documents. Your Personal Injury Solicitor will have to examine the available evidence and also gather evidence in support.
Medical Evidence
Your Personal Injury Solicitor will arrange an independent medical examination, so a report that outlines the extent of your injuries and what caused them can be put together. The report will also explain how your injuries have affected your life. You must give honest and accurate information to the medical expert, who will include their opinion on your prognosis in their final medical report.
Once the medical report is complete, this will be sent to you so you can approve it and check its accuracy. If you're happy with it, then it can be disclosed to the third party's insurer. If the medical report provides a diagnosis and definitive prognosis, then an assessment regarding the valuation of your claim can be carried out.
At this stage, the third party insurers may be invited to consider compensation settlement proposals.
Alternatively, your Personal Injury Solicitor may seek your instructions about a suggested compensation settlement offer to put to the other side.
The third party insurers will have the opportunity to agree the report or to ask questions to the medical expert to clarify their opinion. You need to be aware that the third party insurers will look through the report to try to spot any inconsistences which might weaken or undermine your case.
Provided the third party insurers agree with the report, the next stages will involve a period of negotiations to secure a compensation settlement figure for your claim. It's not always possible to reach an agreement and your Personal Injury Solicitor will advise you if Court proceedings need to be issued. But even if this happens, your Solicitor will still work to negotiate compensation settlement of your case outside of Court.
Other Evidence
We may collect witness evidence from work colleagues, as they may have witnessed your accident, or can give evidence of similar accidents, poor working conditions or unsafe working practices in your workplace.
Photographic evidence taken at the time could also help prove fault, while we may ask for documents to show your financial losses and receipts of all the expenses you've incurred.
Finally, we often advise people making an accident at work claim to keep a diary to record their symptoms, progress and recovery. This should include treatment received and medication you're taking.
Get in touch, today!
Fill in the form below to get in touch with one of our dedicated team members, or call our team today on: 0808 239 3227