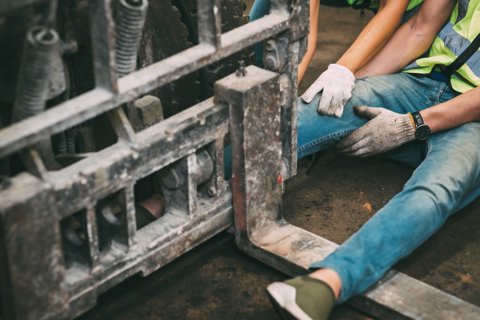 Do I Get Paid if I'm Injured in an Accident at Work?
Posted on: 3 mins read

Dawn Rose
Personal Injury Solicitor, Serious Injury Team Leader
Yes. If you've suffered an injury in an accident at work in England or Wales and you're unable to work for at least 4 consecutive days, your employer has to pay you Statutory Sick Pay (SSP). Alternatively, they may have their own sick pay scheme in place which pays out a higher amount.
However, claiming compensation may be the only way to ensure you get the full amount of pay you've lost, and be able to afford any medical treatment, care and rehabilitation without putting yourself under financial pressure.
Our Personal Injury Solicitors and Litigation Lawyers are specialists in accident at work claims. We offer free legal advice and can advise you on your legal rights. Get in touch for a free consultation so we can discuss the details of your accident with you. Ask if we can deal with your claim on a No Win, No Fee basis.
Do I Have a Claim?
It's your employer's duty to take reasonable care of your health and safety at work, and take the necessary measures to reduce the risks of accidents in the workplace. For example, your employer should:
Carry out risk assessments before any potentially dangerous work starts
Have an adequate system of maintenance and inspection in place
Warn you about any hazards
Cordon off hazardous areas in the workplace
Ensure the area isn't in a state of disrepair.
If your employer has failed to take steps to keep you safe and you suffer injuries in an accident at work as a result, you could be entitled to compensation. When compensation is awarded, in most cases the compensation is paid by the employers' liability insurer, and not by the employer.
Our Personal Injury Solicitors negotiate with insurers on a daily basis to get the best possible compensation settlements for our clients. It's often the case that we negotiate a higher settlement than initially offered by an insurer. In one particular work accident case, the insurer offered £85,000 compensation but we pursued the case until the settlement offer was increased to £300,000 compensation; which our client accepted.
For more details and to see different amounts of compensation payouts in employers' liability claims, see Examples of Accident at Work Cases.
Am I Eligible for Statutory Sick Pay?
To qualify for SSP, you must:
Be classed as a permanent employee or an agency worker for an employer in England or Wales
Be off work for at least 4 consecutive days (including non-working days)
Earn at least £118 a week on average
Inform your employer that you're unable to work before their deadline, or within 7 days if they don't have a deadline.
Your employer may also have an occupational sickness scheme of their own in place, which may be fairly generous when compared with SSP, so it's worth looking at your employment contract to find out what you're entitled to.
If you aren't eligible for SSP, you may be entitled to apply for Universal Credit or Employment and Support Allowance (ESA). Remember that SSP may not necessarily cover your entire wage, which is a good reason to find out how much compensation you could be entitled to.
You should also be aware that if you are making a work accident claim, that your employer isn't allowed to treat you any differently as a result. Otherwise, your employer could be breaching your employment rights, as laid out in law.
How Much Sick Pay Should I Receive?
You're entitled to £94.25 a week in SSP if you're unable to work following an accident in the workplace. Your employer must pay this amount for up to 28 weeks. If your employer has an occupational sickness scheme, details of the amount you should be paid in sick pay will be outlined in your employment contract.
Time Limit on Accident at Work Claims
You must make a claim within 3 years of your accident taking place. Otherwise, you may be too late to claim a settlement that compensates you for the pain, suffering and loss of amenity you've experienced, and the financial impact of your accident, such as medical fees, travel expenses and loss of earnings.
Get in touch, today!
Fill in the form below to get in touch with one of our dedicated team members, or call our team today on: 0808 239 3227