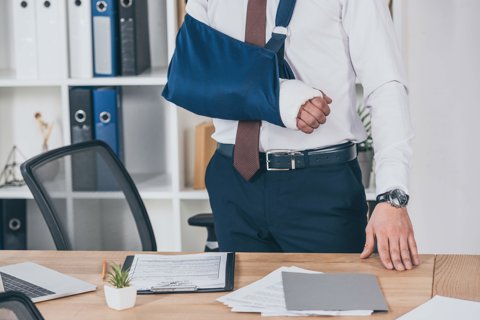 Can I Claim Compensation for an Accident at Work?
Posted on: 2 mins read

Employers in England and Wales are legally required to maintain a safe working environment, so if you're injured in the workplace and it wasn't your fault, you could make a compensation claim. Accidents at work are often caused by defective equipment, negligence by other employees or the company adopting unsafe working practices.
So if any of these have led to you suffering a workplace accident, you may be entitled to receive compensation. The law require employers to have at least £5 million of employer's liability insurance in place, so in most work accident claims, it's the insurance provider that pays the compensation; not the employer.
For free legal advice about claiming compensation for an accident at work, get in touch with our Personal Injury Solicitors – ask if we can deal with your case on a No Win, No Fee basis.
What Can I Be Compensated For?
You can receive compensation for the pain and suffering caused by your injury. This is known as General Damages (see Special Damages below) and will reflect the severity of your workplace injury.
Common injuries in accident at work claims include:
Back injuries
Head injuries
Neck injuries
Falls from height
Slip and fall accidents
Manual handling accidents
Repetitive strain injury (RSI)
If your claim is successful you will also receive Special Damages - compensation for any financial losses you've incurred as a result of your injury. That may include lost earnings because of time off work, insurance excess, prescription charges and care costs (including if you were looked after by a member of your family).
You can boost your chances of getting the Special Damages you're entitled to if you can produce receipts for costs or other documentation showing the scale of your financial losses.
Our clients rate us as
'Excellent'

4.5 out of 5 based off 2457 reviews
What to Do after an Accident at Work
The information you gather in the immediate aftermath of your accident could be crucial to ensuring your compensation claim is successful and accurately reflects your needs and circumstances.
There are several steps you should take if possible:
Fill in an accident at work report straight away
Take a photograph of where the accident took place, before any changes can be made to the likely causes, such as trip hazards or defective equipment
If you believe an overweight item caused an injury, ensure that the item is weighed immediately and that a receipt/document is printed to show the actual weight
If there were witnesses to the actual incident or aftermath, get their names and contact details, as they could be able to back up your version of events later on
Find out if any other employees have been involved in similar accidents before your accident occurred
Consider whether the training you received was adequate to the task you were expected to carry out. Again, witness evidence may be helpful in backing up your point of view
Find out if any previous complaints have been made against your employer
If you are a trade union member, don't forget to tell your union rep what's happened. They can give you much of the information that could help your claim, such as details on whether similar accidents have happened in the past.
Time Limit for Work Accident Claims
You can claim for an accident at work within 3 years of the date that the accident occurred.
Our Personal Injury Solicitors are experts at dealing with employers' liability claims, so get in touch with us as soon as possible. We can assess the details of your case and let you know if we think your claim has a good chance of succeeding.
Get in touch, today!
Fill in the form below to get in touch with one of our dedicated team members, or call our team today on: 0808 239 3227