You may be entitled to claim medical negligence compensation if an object has been mistakenly left inside your body after surgery. This type of medical mistake is known as a Never Event - an incident that should never occur if NHS guidance and safety recommendations are followed to the letter.
So if you believe the standard of surgical care you received fell below the standard you'd reasonably expect, and if the negligent care directly led to the symptoms or injury you've suffered with following the operation, you may have grounds for compensation.
What Happens If a Foreign Object is Discovered?
If a doctor does discover that a medical object has been left inside your body after surgery, you may have to undergo a second operation to get it removed. If left untreated this may lead to an infection that could cause long-term harm.
Why Claim Compensation?
If you have long-term injuries or medical needs as a result of the medical negligence, a compensation settlement can help you get your quality of life back.
The right settlement can give you the means to access any care and support you need, such as private medical treatment, physiotherapy and counselling. Your compensation could also help you pay for external care and rehabilitation, mobility aids and travel expenses.
So while compensation provides an important acknowledgement that you've been the victim of medical negligence, it also helps you move on from what's happened in a very positive and constructive way.
How Does the NHS Try to Stop Surgical Items being Retained?
NHS clinicians are required to count any surgical items that are to be used in an operation before starting any invasive procedure. These objects must then be recounted before the operation ends, so doctors are certain no swabs, medical instruments or foreign objects have been accidentally left inside the patient.
However, human error can still occur, with medical objects still being left inside patients even if the surgical items count appears to be correct. Furthermore, in some operations, the patient may need to be treated urgently, in which case there isn't time to count surgical instruments before starting.
What Objects Can Be Left Inside Patients?
Many surgical items can be inadvertently left inside a person's body after surgery, such as swabs, clips, sutures and sponges. These can result in pain and serious infection, including Sepsis. Some retained objects, such as scissors, needles and pins, can also cause injury to organs and potentially organ failure.
Due to the nature of the medical negligence that's occurred, medical objects left inside patients are often not detected until an infection is diagnosed or a person starts feeling discomfort and gets it checked out. As a result, it can sometimes take a long time for patients to find out that a foreign object has been left inside their body.
Time Limits on Making a Claim
You have 3 years in which to claim, which is calculated from either the date of the incident or date on which the patient becomes aware that they were injured through medical negligence. Therefore, if it has taken a while for your symptoms to present and the object to be identified, you'll have 3 years from your date of knowledge.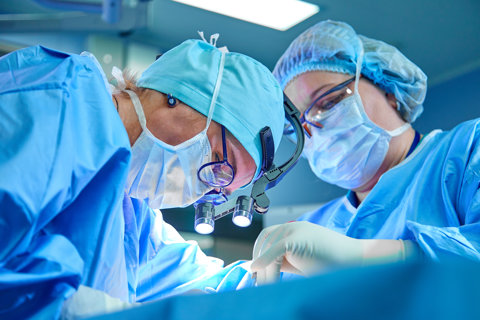 Our Medical Negligence Solicitors are specialists in handling compensation claims for retained surgical instruments, for example:
For a free consultation get in touch with our Medical Negligence Solicitors and we'll be happy to look at the details of your case. We may be able to act for you on a No Win, No Fee basis – ask us for details.
Get in touch, today!
Fill in the form below to get in touch with one of our dedicated team members, or call our team today on: 0808 239 6043