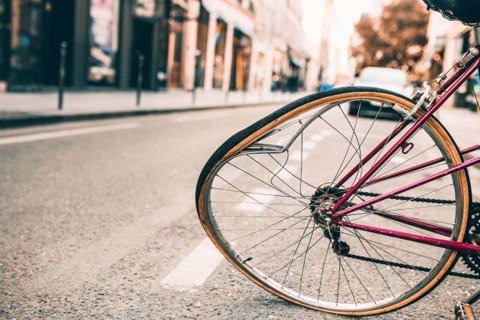 Road Traffic Accident led to a Debilitating Ongoing Injury
Posted on: 3 mins read

Susan Vanden
Partner, Road Traffic Accident Technical Manager
We helped a cyclist that was knocked off his bike by a van get compensation for a dislocated shoulder which wouldn't heal.
Jay was working as a delivery driver and was on his way to work one morning on his bicycle.
A van coming in the opposite direction didn't see Jay and turned right into a side road in front of him. Because of this, Jay crashed into the side of the van and was knocked off his bike.
An ambulance was called, and Jay was rushed to A&E. He had severe pain in his shoulder, head and across his body.
He was diagnosed with a Grade III right ACJ dislocation – this meant that the ligaments in his shoulder were ruptured and his clavicle (the bone that sits on top of the shoulder) had moved between 25% and 100% out of place from where it should be.
His arm was placed in a sling, and he was sent home with some light pain relief, usually used to treat minor aches and pains.
But a routine follow-up appointment with the hospital found that Jay had completely dislocated his shoulder. He had to have shoulder reconstruction surgery, leaving him in a sling for another six weeks and needing physiotherapy.
After seven months, he went back to work.
A year later, Jay still had significant pain in his shoulder. He was referred to a shoulder expert who found little recovery during the two years after his accident.
They also confirmed that Jay was suffering from General Adjustment Reaction, a mental health condition brought on by the accident and his ongoing injury.
If you've been involved in a Road Traffic Accident, like Jay, you could be entitled to make a claim. Contact our Road Traffic Accident Solicitors to see how we can help. 
How We Helped Jaroslaw
Jay contacted Simpson Millar to help him with his Cycle Accident claim. He spoke to Susan about the accident and what he had been through afterwards.
Two years after his accident Jay still hadn't fully recovered and his shoulder joint was so unstable that he couldn't lift anything heavy. He had pins and needles in his hand, caused by carpal tunnel syndrome, which had got worse after his surgery.
He couldn't work because he couldn't do any heavy lifting and his mental health had suffered because of his ongoing injuries and because he couldn't work.
Jay's wife and his brother had had to care for and support him with day-to-day tasks such as showering, shopping, making food and even getting in and out of bed.
Jay had also lost his job as a delivery driver 6 months after the accident and he'd been unable to work at all for more than 14 months.
Jay had also needed to travel to and from hospital appointments, physiotherapy sessions and medical centre check-ups to get his shoulder better. But with no money coming in, this was an incredibly difficult time for Jay and his family.
Because the van driver was clearly at fault for the collision, the insurance company of the van driver accepted responsibility and Susan worked on getting a good settlement for Jay. This included making sure that his injuries were fully treated and healed and that he was compensated for all the time he wasn't able to work.
The Outcome
The accident was traumatic for Jay, but actually the worse part was the three years after the accident that really took its toll on him. Jay did get the treatment he needed to improve the movement in his shoulder and get back to work eventually.
Jay was awarded just over £32,500 in compensation, which has helped him rebuild his life.
Get in touch, today!
Fill in the form below to get in touch with one of our dedicated team members, or call our team today on: 0808 239 6443