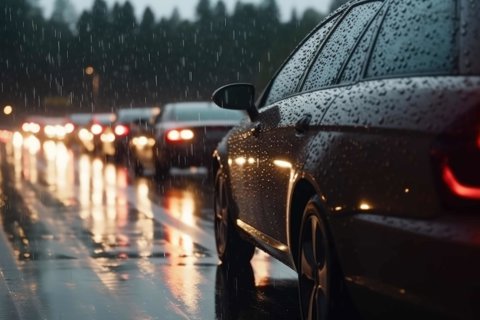 You're more at risk of getting into a Road Traffic Accident when driving in poor weather conditions - whether it's rainy, windy, foggy, icy or snowy. If you were unfortunately injured in a Road Traffic Accident because of someone's reckless driving or negligence, we could help you make a claim for compensation.
The Met Office have issued a yellow weather warning for some parts of the UK this week, including heavy showers and thunderstorms which are likely to disrupt travel. As Brits, we're used to adverse weather even in the spring and summer months, but unfortunately Road Traffic Accidents are much more likely in poor weather conditions. In 2019, in the UK, an average of 4 deaths and serious injuries per day (1,292 in total over the year) were partly caused by a "slippery roads (due to weather)".
If you were seriously injured a Road Traffic Accident in poor weather, you may wonder whether you can make a claim for compensation if you believe your accident was somewhat inevitable because of the dangerous conditions. However, the national road safety charity Brake make the point that road traffic accidents are not merely "accidents" – they are "devastating and preventable events". Other road users have a responsibility to follow the Highway Code and must exercise even more caution in poor weather, and local authorities must take reasonable steps to keep the roads safe.
This means that if there was a chance that someone else was driving dangerously, or the council did not do enough to remove dangers or hazards, we could help you claim compensation on a No Win, No Fee basis.
Below we've discussed the responsibilities of other road users and councils in preventing road traffic accidents. If we can prove someone else breached their duty of care and caused you serious injury, whether it was a or local authority, you could receive thousands of pounds in compensation. Get in touch today for a Free Case Assessment.
What are the Responsibilities of other Road Users in Rain, Wind, Fog or Snow?
Road users must take precautionary measures in adverse weather conditions, whether they are drivers, cyclists or motorcyclists. Research has found that more than two thirds of drivers underestimate stopping distances, highlighting that a lack of understanding could be a factor in dangerous driving in poor weather.
The Highway Code sets out that:
In wet weather, stopping distances should be at least double what they are normally, and even ten times greater in snowy/icy conditions. If steering becomes unresponsive, it's likely that water is stopping your tyres from gripping the road. You should ease off the accelerator and slow down gradually;
If it's snowy/icy, make sure you clear and demist your windows and mirrors completely, drive with care and keep well back from the road user in front;
In icy conditions, you should drive slowly in as high a gear as possible – accelerate and break very gently;
In fog or where visibility is seriously reduced, you must use headlights;
If you're driving in strong winds, keep good control of your vehicle by having both hands on the steering wheel, slow down and focus on the road ahead, keeping room on either side of your vehicle.
If you unfortunately get into a Road Traffic Accident, a police officer attending the scene of the incident will determine and make note of any "contributory factors" that led to the crash. If you believe another road user was in breach of one of the legal requirements, as set out by the Highway Code, you could be entitled to compensation.
Drivers should be legally covered by road insurance, so your compensation would come from their insurance company.
What is the Council's Duty of Care in Adverse Weather Conditions?
You may be able to claim compensation against your local authority if you think the road was not made safe enough, causing you to get into an accident. Local councils must take reasonable steps to ensure the roads are safe for driving.
Highways authorities (county, unitary, metropolitan and borough councils) are responsible for nine out of every 10 miles of road in the UK.
The Highways Act 1980 states that authorities should ensure "safe passage along a highway is not endangered by snow or ice".
Authorities must:
Make sure that roads are in a good state of repair all year round, and establish contingency plans for unforeseen weather conditions;
Manage highway drainage and roadside ditches;
Grit public roads as far as is reasonably practical – you can check to see which roads and pavements your council should grit;
Make sure obstructions are removed e.g. fallen trees caused by windy conditions;
However, the law states that authorities only need to ensure these measures are in place as far as is "reasonably practical" for them. Our weather can change very quickly in the UK and authorities often have specified timelines to respond to removing hazards.
This means council liability can be tricky to prove, but our dedicated Road Traffic Accident solicitors have achieved millions of pounds in compensation for people, and we can let you know if you'd be eligible to make a claim against the council.
What Injuries Could I Claim Compensation For?
We specialise in helping people claim compensation for serious injuries from Road Traffic Accidents, such as:
Injuries caused by Road Traffic Accidents can cause serious long-term medical complications which may mean you're unable to work and support your family financially, so compensation can account for loss of earnings.
Every injury is different so we will always take into account your personal circumstances to work out how much compensation you're entitled to. The exact amount you could get will depend on how serious your injury is, how it's affecting you now and any support or rehabilitation you might need in the future.
Serious road accidents can be traumatising and you may also be emotionally impacted – compensation can help you access any help and therapy you need to build up your confidence to get back on the road.
Am I Eligible to Claim Compensation?
In order for you to make a claim for compensation for your injury, we will need to prove someone breached their duty of care to you, whether this was a road user or a local authority. We need to be able to prove that their actions caused you serious injury, or that if they took action, your injury could have been prevented. Simply get in touch and tell us what happened, and we can let you know if you could have a claim.
Even if the weather conditions partly contributed to your accident, or if you could've prevented your injuries in some way (e.g. by wearing a seatbelt or driving slower), it's still worth you getting in touch to see if you have a claim. We'd never take on your claim if we don't think there is a strong chance of you securing compensation – but you have nothing to lose by getting in touch with our experts to see what you could be entitled to.
We have a dedicated, highly experienced Road Traffic Accidents team who have a track record in securing significant amounts of compensation for people. We'll make sure you're up to date throughout your claim, and we'll collect as much evidence as we can to secure you the best possible compensation. It can help us if you keep any medical and financial records, witness details and photos of the accident scene and your injuries – but don't worry if you don't have everything to hand, as we'll help gather everything we need to prove your claim.
Get in touch, today!
Fill in the form below to get in touch with one of our dedicated team members, or call our team today on: 0808 239 6443