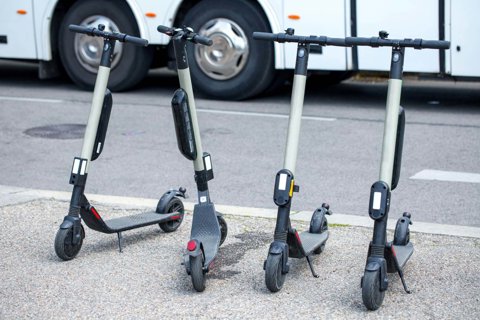 Rental E-scooters - A New Accident Risk on British Roads
Posted on: 2 mins read

Susan Vanden
Partner, Road Traffic Accident Technical Manager
Since last month, it's been legal to ride rental e-scooters on roads in England and Wales, as the Government wants to encourage different ways of travelling during the Coronavirus pandemic. But the change has led to many safety concerns, as e-scooters can cause serious and life-changing injuries if they're ridden dangerously.
Many people who rent an e-scooter may never have ridden one before. Sadly, it's only going to be a matter of time before other road users and pedestrians are injured in an accident caused by the driver of a rented e-scooter.
Rental E-scooters - What are the Safety Risks?
The recent change in the law creates many potential road accident risks. For example:
E-scooters don't have mirrors or indicators, so riders can't signal to other road users or see vehicles approaching from behind
E-scooters can't always cope with uneven road surfaces and defects
Riders won't be in a stable standing position when in motion, so they're much more likely to be thrown off than cyclists
Riders may travel without wearing helmets and other safety equipment, and e-scooter lights aren't as bright as those on bicycles, so they're less visible at night
E-scooters are much quieter than cars, so can pose a risk to pedestrians, particularly for blind or partially sighted people
E-scooter riders may break the law and ride them on pavements, or weave between the road and pavements without warning
It's worth remembering that since rented e-scooters are insured by the rental company, you'll need their details if an accident does happen, as well as those of the rider.
What Does the Law Say on E-scooters?
You can now ride a rented e-scooter on roads in England and Wales, although they are banned on pavements. Their speed is limited to 15.5 mph and riders must be over 16 years old.
Anyone riding an e-scooter must also carry a full or provisional car, motorcycle or moped licence. Personal e-scooters can only be used on private land, so you can't legally ride it on the road.
Trials of e-scooter rental schemes are being carried out across the country, and the Government believes they offer a clean and cost-effective mode of travel. Ministers also hope they may help reduce the number of people using public transport and make social distancing easier.
But, any or all of the safety issues we've highlighted could possibly cause a road traffic accident and potentially a serious injury.
England has already seen its first death involving an e-scooter, as last summer, YouTuber and TV presenter Emily Hartridge was riding one when she was hit by a lorry at a busy London roundabout.
Get in touch, today!
Fill in the form below to get in touch with one of our dedicated team members, or call our team today on: 0808 239 6443