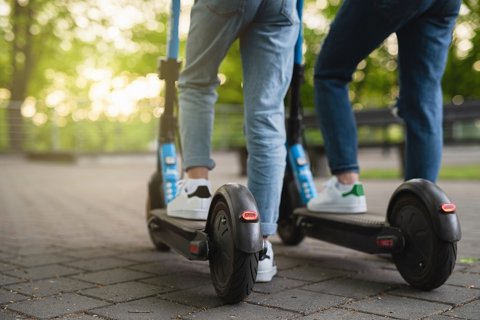 E-scooters are the new way fun way of transport, but they're also environmentally friendly and easy to use. E-scooters have become a common sight on the roads over the past few years.  However, riding an e-scooter can be dangerous especially when riding on public roads and places. E-scooter riders can experience dangerous situations when riding in traffic, they're vulnerable to potholes, oil spillages and riders can speed up to 40mph.  
Safety Tips
E-scooters are becoming increasingly popular within the UK, but there are still some potential risks when riding. Here are some top tips on how to take the right safety precautions whilst riding on the roads:
Wear protective clothing such as helmet, knee pads, elbow pads
Wear light colours so other road users can see you
Be aware of your surroundings
Never ride an e-scooter on pavement
Ride slow and brake when needed
Don't drive fast on busy roads and make sure to take turns slowly
Avoid riding in bad weather
The government website offers more information and advice on how to use your e-scooter safely on public roads.
Current Laws
The current law allows e-scooters on public roads but excludes riding on motorways and pavements. If you want to rent an e-scooter, you must hold a valid full driving licence. If you own an e-scooter, you can use it on private land. But only e-scooters that are rented are allowed on public roads. However, if your actions are deemed dangerous, the police are obligated to issue fines.
E-scooters are treated and known as motor vehicles under the Road Traffic Act 1988. This means, you would need a number plate, road tax, lights and other requirements too for riding.
In July 2020, a trial of rental e-scooters ran to support a green environment restart to the environment and help reduce the usage of cars. The trial is now live in 31 regions across England which is to monitor and evaluate the safety of e-scooters. Around 20,000 e-scooters are under the new rental scheme in Liverpool, Bristol and London. The trial is available to riders over 16 with a provisional driving licence to have access. On the government website you are able to see the full trial areas for e-scooters. 
E-scooter Injuries
The Government website published that in June 2021 there was 882 accidents involving e-scooters. E-scooter injuries can cause serious long term medical complications, which may mean you are not able to work and cause financial problems. Here are some common e-scooter injuries:
Neck injuries
Head or brain injuries
Ankle injuries
Back injuries
Fractures
Lacerations
If you've been involved in an accident, you may still be feeling shocked and we understand that taking legal action may be daunting for you. But we've helped thousands of people get road traffic accident compensation after an accident that wasn't their fault, alongside making sure they receive the care, support, and rehabilitation they need. Even if you think you were partially responsible for the accident, we may still be able to help you claim depending on the situation.
Our clients rate us as
'Excellent'

4.5 out of 5 based off 2452 reviews
When Can I make a Claim For Compensation?
If you've had an accident regarding your e-scooter you can claim compensation:
When riding an e-scooter if you've been injured by a motor vehicle driver on the roads.
If as a pedestrian on the road, an e-scooter driver has injured you due to hazardous actions
Falling due to a pothole in the road which wasn't addressed by the council.
How Our Lawyers Are Here to Help
We currently represent a number of clients who have been injured whilst riding an e-scooter. Our Road Traffic Accident lawyers have years of experience helping people get compensation after an accident that wasn't their fault. Get in touch with us today to receive a free case assessment, and to find out if you claim compensation on a No win, No Fee basis.
Get in touch, today!
Fill in the form below to get in touch with one of our dedicated team members, or call our team today on: 0808 239 6443