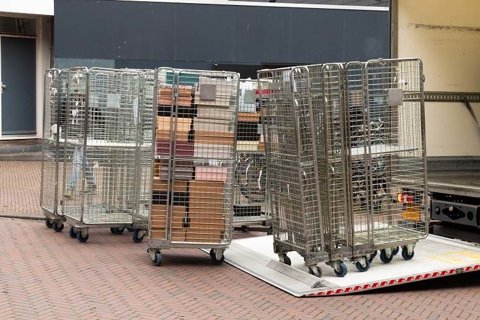 Over £150,000 Compensation for Woman Injured at Work
Posted on: 2 mins read

We helped a woman who often had to move and unload heavy delivery cages as part of her job as a supervisor in a retail store. While unloading a cage, it tipped and fell on to her right arm, wrist, and left foot.
The cage was so heavy that it took several of her colleagues to help lift it off her and she was rushed to hospital in an ambulance. She had to have several operations and continued experiencing pain, which led to her being diagnosed with Complex Regional Pain Syndrome (CRPS) Type 1 - a debilitating chronic pain condition.
The Health and Safety Executive has clear guidance on how to safely use a roll cage. For example:
Items should not be loaded above the load line or above where they can see over the load
Heavier items should be stacked at the bottom
Roll cages should move no faster than walking speed
Cages should be pushed rather pulled
Only one cage should be moved at a time
Our client had enjoyed her job and was hoping to be promoted to assistant manager of the store. But following the injury, she couldn't return to work, and was fearful for the future.
How we Helped
We arranged several independent medical assessments, so experts in areas such as orthopaedics, pain management and psychiatry could examine her and prepare reports on her condition. We also arranged for her to be assessed by a vocational rehabilitation specialist, so she could get advice and help with her future career options.
We approached her employer, arguing they were negligent as the roll cage had been overloaded to twice its normal weight. They accepted responsibility for her accident at work, which meant the case wouldn't have to be settled in Court.
With the help of the evidence we had gathered, we estimated how much compensation she should claim, and began negotiating with the other party for a final settlement.
Outcome
A compensation settlement of £154,600 was agreed at a Joint Settlement Meeting. This meant our client avoided the stress of being cross-examined in a Trial, and now has the means to get all the care, support, and rehabilitation she needs without worrying about what it will cost.
This case was a clear example of how best practice wasn't followed, and our client paid a devastating price for it, including chronic pain, psychological problems and being unable to work. So, it was only right that she got the support she needed to live with these consequences, and we're proud to have helped her get the outcome she deserved.
If you've been injured in a manual handling accident in a warehouse and believe your employer was negligent, we're here for you. Contact our Serious Injury Solicitors so we can discuss what happened and how we can help you.
Get in touch, today!
Fill in the form below to get in touch with one of our dedicated team members, or call our team today on: 0808 239 3227