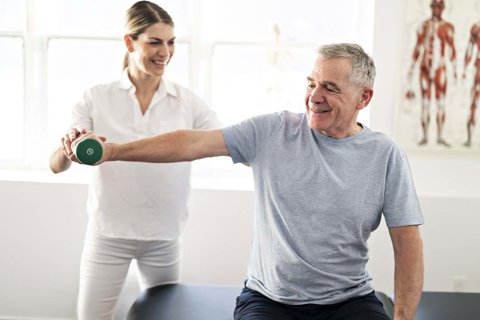 Marathon Effort to Raise Money for Spinal Injury Association
Posted on: 2 mins read

One of our colleagues is running three marathons to raise much-needed funds for the Spinal Injury Association.
Approximately 50,000 people in the UK are currently living with a spinal cord injury, and 2,500 sustain an injury each year.
That means every four hours, someone will be told that they may or will never walk again.
The Spinal Injury Association (SIA) plays a vital role in supporting injured people, but like many charities, it's been hit hard by Covid-19, losing £1 million of income since the pandemic began.
So we want to help.
Simpson Millar Colleague to Run Three Marathons
Mark Fearnley, the head of our contact centre, is running three marathons to raise valuable funds for the SIA.
He'll be raising money in:
London: 3rd October
Manchester: 10th October
Barcelona: 7th November
"You've got an opportunity to help me make a difference to the lives of a lot of people whose lives have been impacted by a spinal injury," says Mark.
"It will be hard work for me but I know those people who have suffered a spinal injury would gladly swap places with me if they could."
It's a brilliant opportunity to raise money for a hugely important cause, and make a very real difference to people's lives.
Spinal cord injury is incurable and in most cases, leads to permanent and life-changing paralysis, but with the support of charities such as the SIA, more people will be able to get the specialist support they need.
We're proud to be one of the SIA'S Trusted Partners and provide legal support to people who've sustained spinal cord injuries.
We wish Mark the best of luck in his three marathons!
Simpson Millar Client Story
Our experienced team of Serious Injury Solicitors have helped many people with spinal cord injuries rebuild their lives.
Tom, for example, had a serious accident while taking part in a charity bike ride, but we helped him get the care, support and rehabilitation he badly needed. Watch our video to hear his story.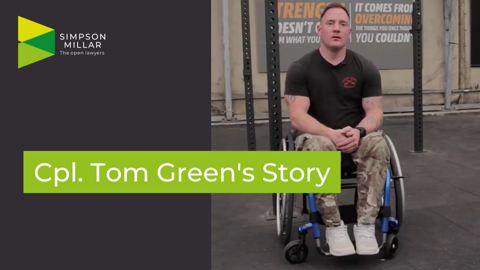 Simpson Millar Client Stories - Cpl. Tom Green talks about his injury and the power to overcome
Our client Client Cpl. Tom Green had a serious accident whilst taking part in a charity bike ride. He talks about his experiences as well as the team from Simpson Millar and how we were able to help.
We can also help you with other legal issues you may have after sustaining a spinal cord injury, such as moving to a more suitable home, making a Will and making sure an injured child gets specialist provision at school.
Our friendly team of experts will work with you and your family, as it's important we understand your needs, circumstances and priorities.
We can then work to reach the best possible outcome for you, so you can live a fulfilling and independent life.
Get in touch, today!
Fill in the form below to get in touch with one of our dedicated team members, or call our team today on: 0808 239 3227