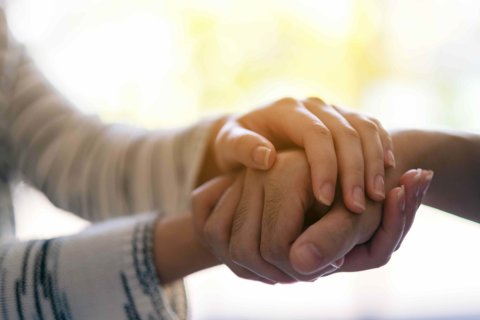 How to Claim Compensation for a Fatal Accident
Posted on: 5 mins read

This article was updated on 5 October 2022.
If you've lost a family member or friend in an accident - whether it was at work, in a public place, or a result of a road accident - starting a claim for compensation is not likely to be the first thing on your mind. You may understandably feel overwhelmed by the thought of going through the claims process while you're grieving but making a claim can provide financial security to those who are left behind.
In some cases, people who provided the main family income may not have had preparations in place to provide for their loved ones. When this is due to someone else's negligence, we can seek to get justice.
We understand that making a fatal accident claim can add extra stress at what's already a very difficult time, but we'll handle your claim sensitively and help you throughout the whole process.
A compensation settlement can help you cover immediate expenses such as funeral costs and general living expenses if you were financially dependent on the person who has died.
You can claim either on behalf of the deceased person's Estate or by making a fatal accident dependency claim. Our Personal Injury Solicitors can talk you through your various options, to help you achieve the best outcome.
For free legal, advice get in touch with our friendly and experienced Personal Injury Solicitors.
How do I Make a Fatal Accident Dependency Claim? 
If you were part of the same household as the person who has died, and they made a significant contribution to your joint earnings, you might have worries about how you'll make ends meet. This can be incredibly stressful at a time when you're grieving.
If you're finding yourself under financial pressure, you could make a claim under the Fatal Accidents Act 1976. This will ensure you and your family get the extra financial support you need following the sudden loss of a loved one.
Under the Fatal Accidents Act, you can claim for:
Bereavement Award- This will reflect the emotional impact of the loss of a loved one in a fatal accident, rather than the financial consequences of their sudden death. A husband, wife or civil partner of the deceased person can receive a flat rate of £12,980 – as can a parent if the person was under 18 at the time of their death.
Dependence for Financial Support- If you were financially dependent on the person who has died, you may be able to claim for compensation on this basis if they died in a fatal accident. You're eligible to claim on these grounds if you are the surviving spouse or civil partner of the person who has died, or if you've cohabited with them for at least 2 years. Under 18s and young adults (such as students who are getting parental support at university) who depended on the deceased person's financial support may also claim on this basis.
Loss of Intangible Benefits- The financial impact of a loved one's sudden death is rarely the main focus of those left behind. As you adjust to life without the person who has died, you will also be coming to terms with living without what the law describes as "intangible benefits", such as the personal attention and affection they offered. While these can't strictly be calculated in monetary terms, the loss of intangible benefits can still be considered when a fatal accident compensation settlement is being worked out.
Dependency for Services- If the deceased person performed many vital tasks at home, such as domestic chores and general home maintenance, you may be left with lots of additional pressures and burdens. However, this too can be considered in a compensation claim following a fatal accident.
You can also claim for the pain and suffering a loved one had to experience from the time of the accident until they died if they didn't die instantly in the accident.
Our clients rate us as
'Excellent'

4.5 out of 5 based off 2457 reviews
How Do I Make a Claim on Behalf of the Estate?
Those who weren't financially reliant on the person who died can often be overlooked following a fatal accident. But it may be the case that the person's death still has a huge short-term financial impact, even if you weren't married, in a civil partnership or the deceased person's child.
For instance, you may have been cohabiting with them and find yourself responsible for arranging their funeral. When in this situation, the costs can soon start to mount up, from the cost of the funeral itself, to flowers, a gravestone and arranging food and a venue for a wake.
You may therefore be able to request compensation on behalf of their Estate, so you get the additional financial support you need.
How Much Compensation Could I Receive for a Fatal Accident?
The amount of compensation you receive depends on the nature of your relationship with the deceased person. So if the claim is being made by a surviving husband or wife, a compensation settlement will be calculated by assessing the couple's joint income and subtracting the contribution that would have been made by the person who died.
If the claim concerns children, the compensation sum is likely to be higher, as a larger share of the deceased person income will be spent on the family rather than individuals. A fatal accident compensation will also consider any investments made by the deceased and interest on their earnings across a normal life expectancy.
The non-financial consequences of the loss of a loved one, as described above, will then be factored into the settlement, and a sum calculated to cover all these factors.
How Will the Matter be Funded?
We can often deal with fatal accident claims on a No Win, No Fee basis, so you won't need to worry about paying anything if your claim isn't successful.
If you have immediate financial pressures, such as funeral expenses, as a result of the loss of your loved one, and you can't wait for a final settlement to be agreed, we can push to secure Interim Payments before a Court Hearing.
Will I Have to Go to Court?
Not necessarily. A fatal accident compensation settlement will usually be offered before the actual Court date, and we'll negotiate with the other party on your behalf to ensure you receive a fair amount of compensation. If a settlement isn't offered, we'll take your civil claim to the Courts and present your case to a Judge.
For more information that's tailored to your situation, get in touch with our expert Personal Injury Solicitors.
Get in touch, today!
Fill in the form below to get in touch with one of our dedicated team members, or call our team today on: 0808 239 3227