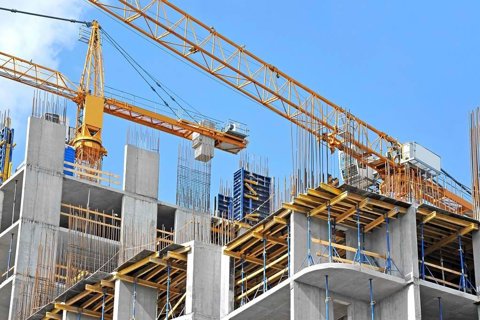 Construction Workers at Higher Risk of Workplace Accidents
Posted on: 3 mins read

Working in construction can be a dangerous occupation, especially if you primarily work on construction sites. While most construction firms now have advanced health and safety policies in place, we unfortunately still see construction workers suffering from a wide range of work-related injuries.
The extent of this danger was highlighted in the Health and Safety Executive's most recent report which revealed that 2.9 percent of construction workers had suffered a non-fatal injury in 2020/21. This is significantly higher than the percentage for other workers across all industries.
Accidents on construction sites can lead to serious life changing injuries and in the most tragic cases, fatal injuries.
We know that the effects of being involved in an accident at work can be devastating and the thought of making a claim might be overwhelming. Our Personal Injury team have years of combined experience and will guide you through the process, making sure you're informed at every stage.
Get in touch for free initial advice on how we can help you.
What are the Most Common Construction Accidents?
Some of the most common construction accidents include:
falls from a height;
falling objects;
slips and trips;
being hit by a moving vehicle on site;
heavy lifting;
crush injuries;
overturning vehicles;
lack of concentration or mistakes made by colleagues;
chemical burns.
Some types of construction work can be particularly hazardous. We act for all types of construction workers but some of the most frequently injured include:
roofers;
bricklayers;
carpenters;
electricians;
scaffolders;
labourers;
crane Operators;
machine operators;
digger and excavator drivers.
Who is Responsible for Keeping Construction Workers Safe?
If you're working in construction, there'll be a number of businesses and individuals who are responsible for your safety, this includes:
the client – whoever is having construction work carried out is responsible for making sure appropriate arrangements are in place for the management of the project;
the Principal/ Lead/ Head Contractor;
contractors and sub-contractors on site;
site managers – the person managing the construction site has a responsibility to carry out the relevant health and safety checks and inspections;
designers or architects – the safety of construction workers must be considered in any building project when preparing design plans;
manufacturers – companies producing construction equipment must make sure it is safe to use.
If you've been injured in a construction accident, you might feel unsure about who is to blame, especially if you're self-employed. But this shouldn't stop you from seeking out the support and compensation you could be entitled to.
Can I Make an Accident at Work Claim if I'm Self-Employed?
It's understandable that as a self-employed worker, you may feel like you don't have the same rights as a permanent employee after suffering an accident. But under the Health and Safety at Work Act 1974, you're entitled to the same protections as any full-time staff member.
The Construction Design and Management Regulations apply to health and safety of all workers on construction sites. This means that if you've been hired by a contractor or sub-contractor to work on another company's site and you're involved in an accident, you could still make a claim against them if they've failed to maintain a safe environment and offer the proper training.
Things can get slightly more complicated if the accident took place on your own premises. But if it can be proved that the equipment you were using was faulty or that your injuries were caused by someone else working on site for another company, you could still be eligible to make a claim.
Get in touch with our friendly and approachable Personal Injury Solicitors for further advice tailored to your situation.
How can a Personal Injury Lawyer Help?
After suffering an accident at work, you'll naturally be experiencing shock at what has happened and the thought of starting legal proceedings can feel daunting.
We know how difficult it can be to take the first step towards making a claim for compensation and we aim to use our expertise make the process as stress-free as possible.  
Our Personal Injury Lawyers will refer you for medical review and work with you to get the best outcome for your claim. If the other party involved admits liability, we can also apply for Interim Payments to help you pay off your immediate costs.
If you decide you want to make a claim, our Personal Injury Solicitors will listen to your situation as part of a free claims assessment and let you know if we can help you on a No Win, No Fee basis.
FAQs about Construction Injury Claims
You'll have three years from when the accident happened or when you became aware of the injury to make a claim. It's really important you seek legal advice early so that you have the best chance of getting the compensation you're entitled to.
As with any Personal Injury claim, the amount of compensation you're awarded will depend on the individual circumstances of your claim. But generally, your compensation will cover General Damages, these are:
your pain and suffering;
the impact your injury has had on your life.
Your compensation should also cover any financial losses associated with your accident, these are known as Special Damages and will take into account:
care costs;
travel costs (to and from medical appointments);
medical treatment costs;
damaged possessions;
loss of earnings.
Our Personal Injury Solicitors will refer you for medical assessments which will help inform how much compensation you should receive. We'll also collate any financial losses as listed above as part of your claim so that these are covered.
Get in touch, today!
Fill in the form below to get in touch with one of our dedicated team members, or call our team today on: 0808 239 3227