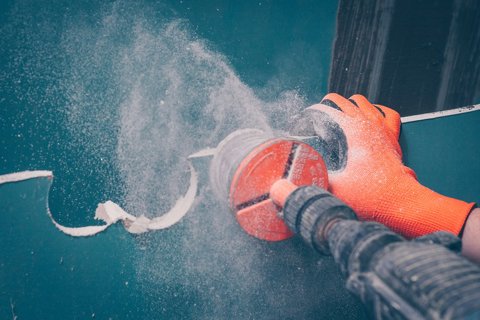 Construction Site Safety During Coronavirus Pandemic
Posted on: 2 mins read

What Must Employers Consider?
Employers in the construction industry have been issued with guidance to make sure workers are safe on site as the coronavirus pandemic continues. But being Covid-secure shouldn't be the only priority over the coming weeks and months, as there are many other key issues to think about to keep building and construction sites safe.
Duty of Care as Occupier
Depending on their level of control over the site, your employer and/or contractor may be deemed to be the occupier. That means they may owe you a duty to take reasonable steps to make sure you're reasonably safe while working on site.
Working at Height
English law states that your employer must avoid work at height where reasonably practical. If not, your employer should take reasonable measures to prevent a fall accident from happening, such as carrying out risk assessments and providing scaffolding and safety helmets and harnesses.
Personal Protective Equipment
Depending on the specific risk on site, your employer and/or contractor may be responsible for providing suitable Personal Protective Equipment (PPE), such as:
Masks
Hard hats
Gloves
Non-slip footwear
Hi-Vis clothing
Body protection, such as kneepads, safety goggles and ear defenders
Our clients rate us as
'Excellent'

4.5 out of 5 based off 2457 reviews
Regular Inspections
Your employer must make sure that the site is kept safe, in good order, in a reasonable state of cleanliness and carry out adequate inspections of the site.
Health and Safety
The law states that building contractors must carry out their activities in a manner which secures the health and safety of any person affected by the project.
They should make sure that so far as is reasonably practicable, the construction work was carried out without any risk to health and safety and to ensure that the site is kept in good order.
Staying Covid-Secure
Building and construction site employers are having to adapt their systems to make sure the risk of Covid-19 to workers is reduced as much as possible.
For instance, many firms are staggering start and finish times, limiting how many people can work on a site at any one time, and providing alcohol-based hand sanitisers or wipes, as they can't guarantee the availability of running water on site for regular handwashing.
But while adapting to a world with Covid-19 has been vitally important, the safety regulations that were already in place remain just as important as ever.
If you suffer an accident on a building and construction site, and believe your employer didn't do enough to keep you safe, get in touch with our Personal Injury Solicitors. We have a strong track record of recovering compensation for people who've had an accident at work and helping them get the care, rehabilitation and support they need.
We deal with many claims on a No Win, No Fee basis.
Get in touch, today!
Fill in the form below to get in touch with one of our dedicated team members, or call our team today on: 0808 239 3227