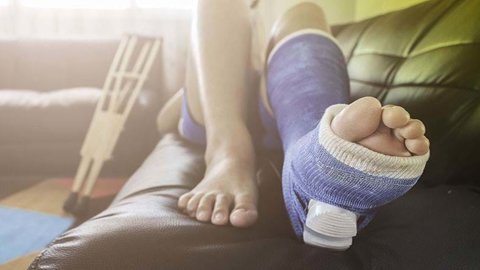 £378,000 Compensation Payout in Accident at Work Claim
Posted on: 3 mins read

A Personal Injury Claim Case Study - Client Situation
Mr P was injured at work while taking delivery of some bags of logs at the front of a property. As he lifted the bag of logs and turned to take them through a side door to the back garden, he accidentally put his right foot into a drain and twisted his ankle.
This was extremely painful and Mr P's wife had to take him to hospital straight away to have his injuries looked at. He was told that he'd suffered a complex fracture of the ankle and ligament damage.
At the time of the accident, he'd been working as a factory maintenance engineer. But because of his injury, he had to spend ten weeks off work.
Mr P needed significant care and assistance from his wife while he recovered, but he eventually returned to work on light duties. But sadly his return to work only lasted eight days, and Mr P spent the next four months unemployed before he found lighter work as an electrician, and he's now a self-employed electrical contractor.
But Mr P's earnings are much lower than they were before the accident at work, and he feels he's at a disadvantage on the job market because of his injury. Mr P still can't carry out many tasks at home, such as gardening, DIY and walking the dog, which he enjoyed doing before his injury.
He's also had to undergo extensive physiotherapy and hydrotherapy to help him with his recovery, and paid for two sets of surgery privately via a case manager. The accident had a big psychological impact too, which led to Mr P being prescribed with anti-depressants by his doctor.
Mr P decided to make an accident at work claim for compensation from the property owner and contacted our Personal Injury Solicitors for a free claims assessment. After looking at the details of his claim, I felt he had a good chance of success and agreed to help him on a No Win, No Fee basis.
How We Helped
I began an investigation into what happened to Mr P, who said the drain that caused the accident was defective and in a dangerous state.
I arranged for him to be assessed by an independent consultant orthopaedic surgeon, who put together some medical reports outlining Mr P's condition and the treatment he needed. This helped us value how much compensation we could claim and what type of care and support should be arranged for Mr P to make his life easier in the future.
I also investigated the financial impact of Mr P's injury. As he was unable to work for some time, he lost out on pension income and could only start working again on a reduced salary.
If the accident hadn't happened, Mr P was planning on staying in his previous job until retirement. But his injuries and the fact he needed more control over his hours to manage his symptoms meant he had to become self-employed, which had a big impact on Mr P's financial situation at the time.
Mr P and his wife also had to take out loans to pay for ordinary household expenses, which built up high rates of interest. All of this information was included in our claim too, along with further expenses such as the cost of travelling to medical treatments and consultations, and specialist treatment such as physiotherapy and hydrotherapy.
The Outcome
Following negotiations with the property owner, Mr P accepted a compensation settlement of £378,000.
This will help him cover the cost of the ongoing care and assistance that he will need in the future. This will include likely steroid injections, equipment and adaptations to help with day-to-day chores and a vehicle with an automatic gear box, all of which will make Mr P's life a little easier and ease the impact that his injury has had on his life.
Get in touch, today!
Fill in the form below to get in touch with one of our dedicated team members, or call our team today on: 0808 239 3227