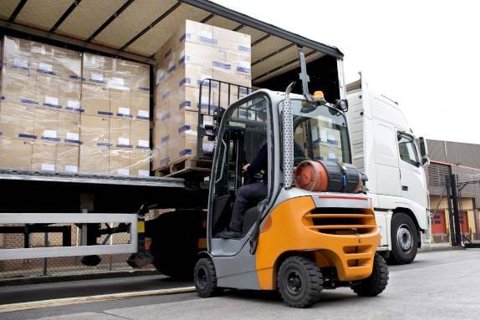 £20,000 Compensation after Forklift Truck Accident at Work
Posted on: 4 mins read

An Accident at Work Claim Case Study - Client Situation
Mr T was working as an agency worker driving a forklift truck when he suffered injuries to his head, back and knee. 
He was using a 360 Excavator Machine to carry a load of heavy metal sheeting, but as he was trying to turn and manoeuvre, it overturned and rolled over, and he was tipped out of the truck through the window.
Mr T had asked for a plan for the operation before driving but none was provided, even though the area he had to manoeuvre in was very narrow and it was dangerously situated at the edge of a deep shaft. There was also no banksman there to guide him through his manoeuvre.
Our client needed a period of time off work following the accident, as he suffered back and knee pain for several months and struggled with his mobility.
Despite his pain, he was determined to get back to work, but he suffered psychological problems including flashbacks and memories of the accident. In fact, he had thought he was going to die when the truck overturned, as he only narrowly avoided being thrown into a very deep shaft that could have killed him.
He did try some self-help which a friend recommended and tried to climb back onto a truck to tackle his fears. He also tried going back into the same line of work but found that he couldn't cope.
Mr T started worrying about his future employment as he had planned to carry on with this work until retirement.
He got in touch with our expert Personal Injury Solicitors for a free claims assessment, and after listening to his story, we felt he had a strong claim for compensation, and we agreed to take on his case on a No Win, No Fee basis. 
How We Helped
We investigated the cause of the accident at work and found that it had been caused by not having a safe system of work in place. Specific failures included:
Not planning the lifting operation
Not sharing a plan with our client
Inadequate training and supervision
Asking our client to carry a load heavier than the maximum weight for the machinery
Not displaying the load of the weight on the machine
Not having somebody to guide our client while manoeuvring the truck in a narrow space
The company on the site our client was working for denied liability (fault) for the accident, so we had to fight hard to raise our allegations of negligence against them. 
We pressed for disclosure of all the relevant documents, including the lifting operation plan and information about the weight of the load, which when pressed they admitted they did not have. This eventually led to them admitting liability, but they then tried to argue that Mr T was equally responsible.
They suggested he was 50% to blame for the accident because of his level of seniority and experience and that he should have known better and not completed the manoeuvre in the circumstances.
We fought on as we believed this wasn't fair and that they were fully to blame for the accident, so we issued Court proceedings against the Defendant.
We arranged for Mr T to have medical assessments by an Orthopaedic Surgeon and a Consultant Psychiatrist, so they could report on both the physical and psychological symptoms he was experiencing. These independent experts each prepared medical reports detailing his injuries and how they affected his life.
The Orthopaedic Surgeon was of the opinion that Mr T had suffered the injuries he described to his back and knee, but on reviewing X-rays and scans, he noted that our client was also suffering from degenerative changes, and that the accident had made his symptoms worse for an estimated period of two years. 
The Psychiatrist diagnosed that our client had suffered from Post-Traumatic Stress Disorder (PTSD) for the first 12 months after the accident and that he had been left with anxiety and some persisting symptoms. He recommended that Mr T would benefit from a course of Cognitive Behavioural Therapy Treatment (CBT) to aid his recovery.
Although Mr T needed some care and support from his wife and family, he was fortunately able to find alternative work in the hospitality injury, which he could fit around his pain and symptoms.
Using the evidence we had gathered, including the medical reports, we determined how much compensation Mr T should claim and started negotiating a settlement with the other side.
Our valuation of his claim reflected many factors, including his physical injuries, his psychological symptoms and the cost of having the recommended programme of treatment and some loss of earnings.
The Outcome
After negotiations with the other side, Mr T was awarded £20,000 in compensation for his accident at work. The amount of compensation the case settled for reflected the medical expert opinion that although our client was already suffering from pain before the accident and would have gone on to suffer the pain in the future, the accident had brought this forward by up to two years.
The most important outcome for the client was that he was able to get his psychological symptoms diagnosed and secure compensation to enable him to have treatment, such as CBT.
Get in touch, today!
Fill in the form below to get in touch with one of our dedicated team members, or call our team today on: 0808 239 3227