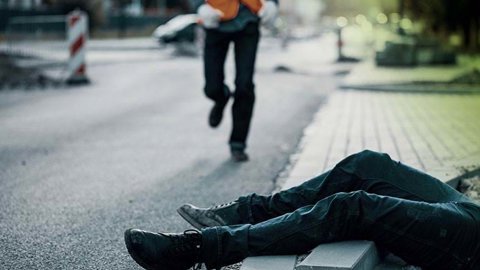 £150,000 Compensation for Accident at Work Case Study
Posted on: 2 mins read

Our client was in his early 30s when he was injured while working in a factory. One day, he was required to change a box of material and in order to do so, he had to climb a ladder to reach the top of the box. As he was on the ladder, it slipped, causing him to fall from a height of around 5 to 6 feet to the floor.  
When he fell, our client landed heavily on his left ankle, which gave way and was very painful. He had x-rays taken and was put in a plaster cast for a possible fracture. He was later told it was an acute sprain injury and he was put in a walker boot for 4 to 6 weeks. Thereafter, he returned to work but had considerable pain in his ankle.
Our client was referred to a consultant orthopaedic surgeon, who arranged an MRI scan. He subsequently underwent surgery for ligament repair and was again placed in plaster. Unfortunately, he developed a blood blister which became infected and required further surgery.
He underwent rehabilitation classes and physiotherapy, but continued to suffer symptoms in his ankle and a CT scan revealed the possibility of an ongoing infection. He underwent further surgery and had another plaster and boot fitted. He then wore a brace and did a further course of physiotherapy.
Our client continues to suffer with pain in his left ankle. He has severe aching when on his feet for a prolonged period, which means he struggles with long hours at work, and it has also impacted his ability to do jobs around the house.
He developed an Adjustment Disorder with Mixed Anxiety and Depressive Reaction as a consequence of his ankle injury. He suffered from anxiety, avoidance behaviour, flashbacks, sleep disturbance, irritability and low mood.
Personal Injury Solicitor Eleanor Walker, who specialises in Serious Injuries, started a compensation claim and our client's employer quickly admitted liability for the accident at work, as the ladder slipped as a result of its rubber feet being missing.
How We Helped
Eleanor Walker successfully negotiated a compensation settlement shortly after the claim was lodged at Court. Eleanor helped our client obtain a £10,000 interim payment of his damages, as he was unable to work for long periods of time and therefore experienced financial difficulties.
We also arranged for our client to undergo CBT therapy on the recommendation of the independent psychiatrist who provided a report on his injuries.
The Outcome
We secured compensation of £150,000 for our client to cover his pain, suffering and loss of amenity, as well as his loss of income, travel expenses, care costs and out of pocket expenses.
See more Personal Injury Case Studies.
Get in touch, today!
Fill in the form below to get in touch with one of our dedicated team members, or call our team today on: 0808 239 3227