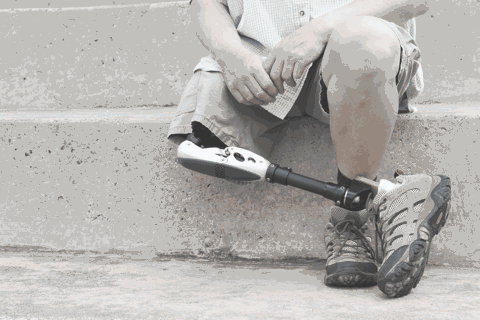 £110,000 Compensation for Amputation after Accident at Work
Posted on: 3 mins read

An Accident at Work Claim Case Study - Client Situation
Mr L was working as a banksman during the laying of a drainage system when his right foot was hit by moving machinery. One of his toes had to be amputated and Mr L couldn't use his foot again for several months.
After the wound healed, he continued suffering symptoms including constant pain, swelling and loss of sensation on the ball of his foot, which affected his mobility and meant he couldn't work.
The whole experience was deeply shocking and frightening, and he struggled to cope with the pain, reduced mobility and not being able to work. As a result, he regularly suffered from nightmares, low mood and anxiety.
Mr L contacted our expert Personal Injury Solicitors for free legal advice and to discuss making an accident at work claim for compensation.
How We Helped
Associate Solicitor Charlotte Rankin, who specialises in serious injury claims, agreed to take on Mr L's claim on a No Win, No Fee basis.
Charlotte contacted Mr L's employer and they accepted responsibility for the accident at work.
Charlotte arranged for Mr L to be examined by an orthopaedic expert, who wrote a medical report recommending he be examined by specialists including a physiotherapist, an orthotist, a pain management expert and a psychologist.
Charlotte advised him not to settle the claim until we'd secured this independent medical evidence to support his claim. Otherwise, there was a risk of under-settling and Mr L not being awarded the full amount of compensation he was entitled to.
At first, Mr L agreed with Charlotte that he should wait until this medical evidence had been obtained before settling his case, as it would help to determine how much compensation he should receive.
But following a close bereavement, Mr L changed his mind and decided to settle without this evidence. At the time, Mr L was under financial pressure because he couldn't work and his various symptoms were getting worse.
We secured several Interim Payments, worth a total of £25,000 to help meet his immediate financial needs. However, he was still set on settling as soon as possible.
Charlotte instead obtained a detailed witness statement to form the basis of his evidence. This set out his losses and how his injuries had affected his work, home and social life. With the help of Counsel, a detailed schedule of loss was drafted, which we had to base on various assumptions because of the lack of medical evidence.
Our clients rate us as
'Excellent'

4.5 out of 5 based off 2454 reviews
The Outcome
Since the 3-year time limit on making an accident at work claim was approaching, we issued protective Court proceedings to Mr L's employer.
Charlotte continued to negotiate with the other side over a possible settlement and thankfully, the claim was settled without the need to go to Court. Mr L was offered a compensation settlement of £110,000 which he accepted.
Speaking after the settlement was reached, Mr L's sister said, "My brother was involved in a terrible work accident resulting in him losing a toe when a piece of machinery went through his foot. Inevitably a claim was made because he can no longer work in the capacity he did and this has impacted every area of his life.
"Charlotte Rankin of Simpson Millar was impeccable throughout whilst dealing with his claim. She tirelessly worked around the clock and sacrificed time with her family. I know this to be true as I have spoken to her on occasion out of office hours to answer her questions regarding my brother.
"She is friendly and caring and always replied promptly to any correspondence. It is a rare occurrence to find such kindness today, but Charlotte saw the person and not just a case to be dealt with. She advised wisely and fought for the best possible outcome for my brother and it has made a positive impact to the quality of his life. Thank you Charlotte."
Get in touch, today!
Fill in the form below to get in touch with one of our dedicated team members, or call our team today on: 0808 239 3227