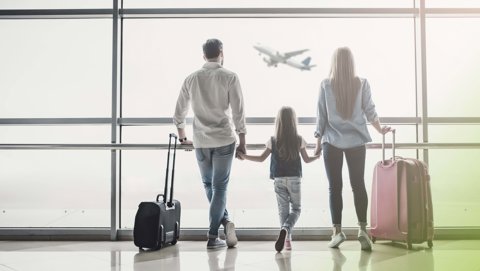 Staying Safe on Holiday after Lockdown
Posted on: 1 min read

While it's now okay to travel for non-essential purposes and stop away from home, you might still have concerns about your family's safety if you decide to go on holiday.
Whether you're looking to travel abroad or you're having a staycation, our Holiday Claims Solicitors offer some advice for keeping safe on your travels.
FAQs
Yes you can now travel abroad for a holiday but you need to follow the law and guidelines of the country you're visiting. It's important to still follow good safety practices to keep safe as well, including regular handwashing and maintaining social distancing with people outside of your household.
You no longer have to self-isolate for 14 days when returning to the UK from abroad, unless you've visited or made a transit stop in certain countries. You can find a list of countries which don't require you to self-isolate after visiting on the gov.uk website. Some of the countries currently included on this list are popular tourist destinations such as:
Croatia
Cyprus
France
Germany
Greece
Ireland
Italy
Malta
Turkey
It's important to note that this list is regularly being updated so they may be subject to change, and the rules for visiting these countries differ across England, Scotland, Wales and Northern Ireland. Make sure you regularly update yourself on UK Covid-19 rules and those of the country you're going to, both before and after travel.
You should also check what's covered by your travel insurance, as cover for holidays affected by Covid-19 will vary in terms of when the policy was booked.
If you've booked accommodation for a holiday, either abroad or in the UK, the holiday provider or hotel have got a duty of care to keep you safe. As well as doing their usual routine health and safety checks, hotels should be putting extra measures in place to protect holidaymakers from Coronavirus. But accidents can of course still happen.
It's important to still get medical attention if you have an accident on holiday, even though hospitals are going to be extra busy during this time. If you're in the category of vulnerable people and you are concerned about getting medical help, you may find yourself having to make difficult choices. We recommend contacting your GP as well as local clinics, and your insurer.
If you booked your holiday from a package provider and you have an accident in your hotel or on a transfer or excursion, we might be able to help you get compensation. Get in touch with our Holiday Claims Solicitors to discuss your accident.
Now lockdown restrictions have lifted, you should take extra care heading back on the roads. In the UK, we've already seen an increase of drivers on the roads, especially as 'staycations' are proving a popular choice of holiday this year. But if you've had time off driving during lockdown, you could be more at risk of a road traffic accident if you're feeling a bit rusty behind the wheel.
The same applies to driving abroad if you've rented a car. Being out of practice, on top of already driving in a foreign country with different road rules and limits, could put you at increased risk of an accident on the road.
If you've been involved in a road traffic accident abroad in a car you've rented as part of a package holiday, and the accident wasn't you fault, then you could make a claim for compensation. We can go through your case with you and advise you on this.
If you contract Covid-19 while you're on holiday, and you think this is because your hotel didn't put safety precautions in place, you might have a potential claim. If you can, you should:
Collect and hold on to any evidence you've got e.g. photographs or video footage of hotels failing to enforce use of hand sanitiser or social distancing
Keep a note of any communication you've had with the hotel
Check what the rules and regulations are for the country you're in as all countries have different precautions in place
Hotels and resorts should be taking extra measures during Coronavirus to maintain the highest levels of hygiene, especially in communal areas like restaurants, hotel bars and around swimming pools. But other types of holiday sickness and illness are still contractable on holiday.
Having extra safety measures in place should minimise the risk of consuming food that was prepared in unhygienic conditions, but this is not guaranteed. If you've booked an all-inclusive package holiday and you contract food poisoning or Covid-19, you might be entitled to compensation. But you should bear in mind that it'll be difficult to prove that the virus came from the hotel and they are at fault.
Our Holiday Claims Solicitors have helped many tourists secure compensation for food poisoning such as Salmonella and E. coli on holiday, so they can offer you expert legal advice.
If there's a local outbreak of Coronavirus when you're on holiday, it's important that you do exactly what you're told to do by law. This might mean a delayed journey home or having to self-isolate.
While missing your flight home is frustrating, your safety is the most important thing. So if local guidance tells you that you must quarantine, then this is what you need to do, even if it means missing a flight. If you have travel insurance, you should contact your insurer and check the terms and conditions of your contract to see if your flight is covered.
If you end up having to miss your flight because of an outbreak, and your package holiday provider or airline is refusing to refund you, a Holiday Claims Solicitor might be able to help you. Give us a call today to discuss your situation.
Contact our leading Personal Injury Team specialising in Travel Claims Today
Fill in your details and one of our team will call you back or call us now on 0808 239 7911