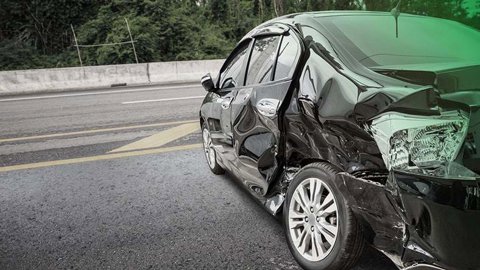 £7,500 Compensation for Road Traffic Accident on Holiday
Posted on: 4 mins read

Our client was enjoying a holiday in Gran Canaria with his partner and one day, they went on an excursion with other holidaymakers in an 8-seater minibus.
He was sat in the rear seat of the minibus, which was driven by an employee of Zig Zag Safari, when a pedestrian stepped in the road, forcing the driver to stop suddenly. However, the driver of another minibus following behind failed to react to what happened, and collided with the rear of the now stationary vehicle.
The impact forced the vehicle in which our client was travelling forward about 6 to 8 feet before it came to rest. He was jolted forwards and then backwards, hitting the back of his head on the headrest. He also sustained an injury to his right shoulder caused by the seatbelt he was wearing.
Following the accident, the driver got off the minibus and spoke to the other driver for several minutes before asking if all the passengers were okay. After setting off for the hotel once again, our client's partner became distressed, upset and said she wasn't feeling well.
The driver pulled over so they could get out of the minibus, and she complained of dizziness and nausea. It was therefore decided to take her to the local hospital.
Our client felt okay, so never said anything to anyone at the hospital, as they were busy tending to his partner, and after a few hours, they got a taxi back to the hotel. However, the following morning, he woke up feeling stressed, anxious and nauseous. Furthermore, his limbs were stiff, he was experiencing aches in his legs and lower back, and he felt weak and fatigued.
He also realised he was suffering memory problems, as he had difficulty concentrating, had slurred speech and had developed a stammer, none of which he'd suffered from prior to the accident.
They went back to the hospital as his partner needed to be assessed in order to get a certificate to fly. Whilst there, our client complained of not being well and underwent several tests. A doctor revealed he was suffering from a neck problem, which they believed was muscular. He was therefore prescribed a muscle relaxing gel and pain relief.
From the day of the accident, the holiday had stopped being fun and became a chore, as our client couldn't take part in any of the activities he'd planned afterwards, or make use of facilities on offer at the hotel complex such as the pool and beach.
Since his partner was very unwell during this time and constantly sick, he could only leave their room to get food and medication, and to escort her to the hospital. On the flight home, he was worried about his partner, suffering with pain in his back and shoulder, and feeling fatigued and nauseous.
Upon returning home, he had a telephone consultation with his GP and explained his memory loss, slurred speech and stammer. He was signed off work for 3 weeks, but after this time had elapsed, his symptoms showed no signs of improving. He was therefore referred to a neurologist for further tests, and diagnosed with post-concussion syndrome.
He was placed on light duties when he went back to work, but many of his symptoms persisted. For instance, he couldn't do any manual work for several months, and he regularly felt fatigued and needed to take regular rest breaks. The road traffic accident also had a psychological impact on our client, as he suffered anxiety, particularly when in a vehicle that was braking or slowing down.
How We Helped
He contacted our team of Holiday Accident Solicitors for a free consultation and to get legal advice about claiming compensation for his injuries, as well as the financial losses and expenses he'd incurred as a result of the accident.
Our client blamed the driver of the other minibus for causing the accident, as their negligence and lack of concentration led to them colliding with the rear of a stationary vehicle.
We agreed to take on his case, as under Spanish law, a person injured in a road traffic accident abroad has a direct right of action against the insurer of the negligent driver.
Our valuation of this claim was based on the findings of a medical report that we arranged, so our client's physical condition and future care needs could be identified, as well as our assessment of the financial impact of the accident.
For instance, his injuries had led to a loss of income, and the fact he still hasn't fully recovered means it could affect his long-term job prospects. Our estimate of what his claim was worth also reflected the fact that our client's holiday was ruined, as he and his partner never got the relaxation and recuperation they wanted.
We then approached Allianz, the insurer of the minibus driver, with the details of the claim and how much compensation we believed our client was entitled to receive.
The Outcome
After some tough negotiating with Allianz, we secured a compensation settlement of £7,500 for our client. This reflected his pain, suffering, loss of earnings, the cost of care and assistance and the loss of holiday enjoyment.
We consulted with a Spanish Lawyer for expert advice who advised us how much the claim was worth based on all the available medical evidence and evidence of lost earnings. After some tough negotiating, we managed to secure our client with an amount of compensation that was within the range of awards we were told he could reasonably expect to receive under Spanish law.
Contact our leading Personal Injury Team specialising in Travel Claims Today
Fill in your details and one of our team will call you back or call us now on 0808 239 7911