In March 2019, Simpson Millar donated a motorcycle to Yorkshire Blood Bikes and we caught up with its rider Dave Dickinson and with Matthew Beynon-Tullett, the Communications Manager about what the bike's been up to over the last 15 months and how the charity helps and support the community and local hospitals in and around Yorkshire.
Whiteknights Yorkshire Blood Bikes are a registered charity run completely by volunteers, most of whom have full time jobs and give their spare time to run this vital service.
Started in 2008, the charity's function is to support hospitals, hospices and patients in the community by moving blood, plasma, tissue samples and other important supplies outside of normal working hours.
This service saves the NHS huge amounts of money – in fact for every £1 that is donated to the Whiteknights, the NHS saves £5.
They are on call from 7pm to 7am every day of the year, including a full 24 hour service on Bank Holidays, Christmas Day and Boxing Day and New Year's Day, when the rest of us are enjoying ourselves.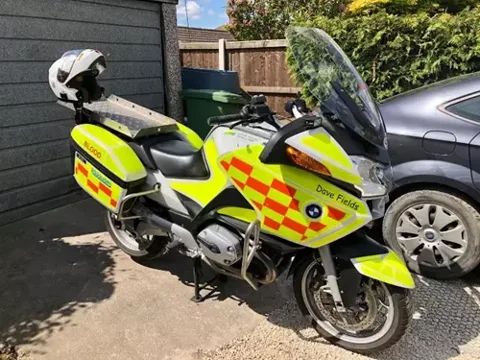 They have 7 motorcycles that operate in Yorkshire covering areas like York, Leeds and Sheffield and each one costs around £6,000 a year to maintain and run each year. They rely only on donations from the public, local businesses and their own members, with no Government support to run this amazing and invaluable out of hours service.
Since we donated the blood bike, named after Dave Fields, a Policeman who died in a road traffic accident back in 2017, it's had 162 urgent calls in North Yorkshire alone. It's been on duty every night and it's even been helping out with training new blood bike riders. It's covered more than 70,000 miles during its operational lifetime.
Blood bike named after Dave Fields, a Policeman who died in a road traffic accident.
Since the Coronavirus pandemic started, they've still been operating as normal through the night, whilst also helping Sheffield Teaching Hospitals NHS Foundation Trust by delivering blood samples from their Drive-Thru Phlebotomy service to the Lab at Northern General during the day.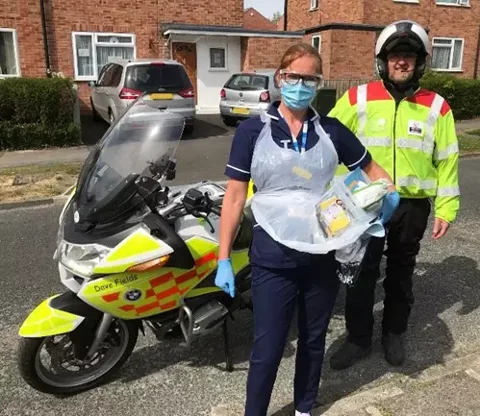 They've been helping to keep people who need routine blood tests safe from Coronavirus by keeping them away from the hospital. They've been moving more than 300 samples each day.
The photo below shows North Yorkshire Regional Manager and Blood Bike rider, Dave Dickinson, delivering controlled palliative care medication for MacMillan Cancer Support Hospice at Home Scheme during the pandemic, which demonstrates the vital work they're doing across the community and NHS hospitals.
Although the service has been operating as normal through the pandemic, there's no question that their funds have been impacted as a result of not being able to get out and fundraise.
Whiteknights Yorkshire Blood Bikes' Communications Manager, Matthew Beynon-Tullett commented, "Not many people know what we do or even that we offer an out of hours service, saving the NHS huge amounts of money each year. Because we normally generated a lot of donations by getting out into the community and telling them what we do, our funds have been hit hard, but we still have to maintain all of our 7 blood bikes.
"All Whiteknights motorcycles are deployed every night of the year. We're called upon to make local journeys across towns and cities in Yorkshire, but more recently Blood Bike Motorcycles like the Dave Fields service bike have also been urgently deployed to participate in national relays that come through our Yorkshire region. Our volunteers have done tremendous work in responding to these additional needs and this has put increased wear and tear and mileage on our already busy fleet.
"Any additional donations will really help us to continue to provide the service we do across Yorkshire and keep our volunteers safe on well-maintained bikes. Our motto is, 'We never presume to say we've saved a life but we are proud to think we make a difference.'"
At Simpson Millar, we're keeping in touch with rider Dave and the Dave Fields bike regularly on social media from now on so we can highlight and support the amazing work they're doing.
If, after reading about their work, you can spare some money and support the Yorkshire Blood Bikes in the vital and valuable work they do, please donate here.
Contact the team at Simpson Millar Solicitors
You can call us Free on 0800 260 5010
Or complete the form below and we will get in touch to discuss how we can best help you.