A few weeks ago, I took the ultimate plunge and swam alongside Europe's largest sharks to raise money for the Spinal Injuries Association (SIA).
As someone who is claustrophobic, the idea of being under water and weighed down by a mask was a scarier prospect to me than the sharks themselves. As a result, I spent weeks practicing free dive breathing in case I panicked and took off the mask while in the water.
But I think it's really important that when you're asking for people's support and sponsorship, you do something that puts you out of your comfort zone.
The dive itself was an incredible experience and it brought supporters of the SIA together with the common goal of raising essential funds and awareness for the great work that they carry out on a daily basis.
In the UK alone, 2,500 people sustain a spinal cord injury every year. The SIA offers invaluable support for people who have been affected by a spinal cord injury and we're proud to support them as a Platinum Member.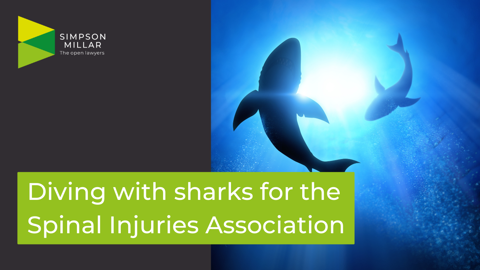 What Does the Spinal Injuries Association Do?
The SIA's main mission is to support people who have suffered any kind of spinal injury to get their lives back on track. This involves helping people access legal and practical advice, as well as any vital equipment they may need as a result of their injury.
In addition to the immediate support the SIA provide, they also campaign for change on a wider level and regularly lobby the Government on the key issues faced by people with a spinal cord injury in the areas of care and medical treatment.
We've been extremely fortunate at Simpson Millar to have benefited from the training the SIA offers for legal professionals in order to better understand how we can support people whose lives have been changed by a spinal cord injury and act in their best interests.
Our clients rate us as
'Excellent'

4.5 out of 5 based off 2455 reviews
How Does Simpson Millar Support the Spinal Injuries Association?
At Simpson Millar, we share the same goals as the SIA and provide legal support wherever we can, offering advice on matters such as interim payments and Personal Injury Trusts after suffering a spinal cord injury. We can also provide access to experts including:
rehabilitation nurses to support you by setting realistic goals for living more independently;
occupational therapists to help you with daily tasks and activities;
physical therapy to improve your mobility where possible and reduce any pain;
speech and language therapists to help with your communication as well as swallowing and eating.
We're equally passionate about helping the SIA raise the vital funds they need to support their clients, so I'm thrilled at the amount of money we've managed to raise so far.
Please donate if you can to Kayleigh's fundraising page.
Contact the team at Simpson Millar Solicitors
You can call us Free on 0800 260 5010
Or complete the form below and we will get in touch to discuss how we can best help you.