Throughout August, the Abuse team at Simpson Millar will be walking 182.5 miles to raise money for the National Association of People Abused in Childhood (NAPAC).
NAPAC has offices in London and Stockport and the team will collectively be walking the distance between each of these sites to reach their fundraising target.
We'll be updating this page regularly with the team's progress and photos from their walks. This is for a great cause and if you'd like to donate, we've included the you can do on the team's Just Giving page.
Updates and Photos from the Team
Thursday 11 August 
We're pleased to report that so far, the team have walked a total distance of 105 miles!
Hywel from our Abuse team looking pleased with his progress!
It doesn't all have to be outside in the heat, some prefer an air conditioned gym!
The longest part so far! 
Monday 15 August 
The team have now walked a brilliant 151.9 miles in total. Here's what they've been getting up to over the weekend. 
Some lovely pictures from the coast! 
We've also had some help from our canine friends ...
Wednesday 17 August
The team have now collectively walked 160.7 miles and the target distance isn't looking too far away!
Hywel enjoying a walk along the river ...
Thursday 18 August
Hywel's walk last night added another three miles on to our total, making the overall distance walked 165.1 miles!
Monday 22 August
We're now on week four of our sponsored walk for NAPAC and the Abuse team have hit their target of 182.5 miles! Between them, the team have successfully walked the total distance between NAPAC's Stockport and London offices, but they're not planning on stopping just yet …
We'll be continuing our updates on the team's progress as they see how far they can make it "back from the London office" before the end of August.
Hywel braving the weather ...
Tuesday 23 August
Our team have carried on making brilliant progress and they've now walked 214 miles overall!
Some lovely photos from Jacob in our Abuse team
Friday 26 August
The team are going into the weekend having walked an amazing 261.5 miles!
We love these sunny walking pics from Beth in our Abuse team
Thursday 1 September
We've come to the end of our sponsored walk for NAPAC, and the team have collectively walked 308.08 miles and raised a grand total of £270. These funds will contribute towards supporting the great work NAPAC does with survivors of childhood abuse, through their support line, online resources, support groups and more.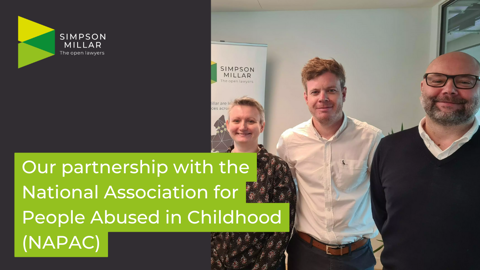 Our Partnership with NAPAC
Simpson Millar partnered with NAPAC earlier this year, and we're pleased to be able to provide support and legal advice for survivors of childhood abuse through the charity's numerous projects.
As part of our partnership with NAPAC, our Abuse team will help the charity to provide free online legal resources as well as instructing NAPAC's partnership organisations in a number of legal processes.
As Abuse Solicitors, we recognise the importance of the services charities like NAPAC provide, and we're proud to be supporting the vital work they do for people who have experienced abuse in childhood.
Contact the team at Simpson Millar Solicitors
You can call us Free on 0800 260 5010
Or complete the form below and we will get in touch to discuss how we can best help you.