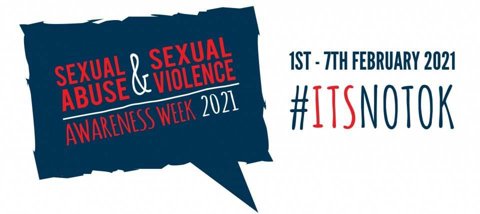 Simpson Millar Raise £730 for Sexual Abuse Victims
Posted on: 1 min read

Our Abuse Team along with other Simpson Millar colleagues have raised £730 for Victim Support, a charity who provide support to victims of crime and abuse.
We decided to raise money for the charity during Sexual Abuse and Sexual Violence Awareness Week (1st-7th February) as many of the people they support have been victims of sexual abuse and violence. 
After seeing a report by the National Crime Agency (NCA) that found at least 300,000 individuals posed a sexual threat to children in the UK last year, we decided to collectively walk, jog and run 300km to draw attention to this shocking statistic.
So we put on our running shoes and got moving. And despite some heavy snow in some parts, we're delighted to have surpassed our target, reaching a total distance of 429km across the week!
Here are some pictures of the team in action:
Dress in Yellow Day
As well as getting out for walks and runs, we decided to do a firm wide Dress in Yellow Day on the 5th February, asking colleagues to donate in return for wearing yellow. We even saw some furry friends get involved…
Check out our collage below!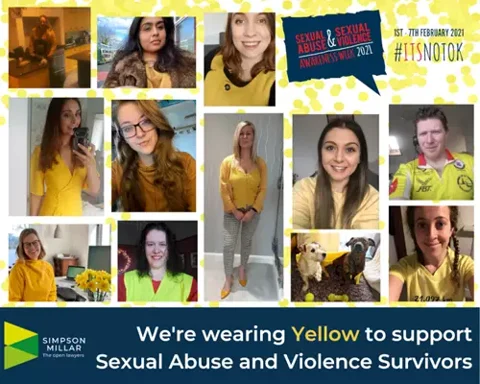 Where Will the Proceeds be Going?
The funds raised will be going directly to Victim Support, a charity we often refer clients to after they've reported abuse to the police.
Victim Support are an independent charity who provide 24-hour support and counselling services to people affected by crime and trauma.
"The last 12 months have been a particularly challenging time for people who have experienced crime", said Jackie Allen, Fundraising Officer at Victim Support.
"The Coronavirus pandemic has resulted in a sharp rise of specific crime types, and many people are feeling isolated and alone while dealing with the consequences. We are extremely grateful to companies like yourselves who continue to raise funds and awareness for Victim Support.
"We will use your donation to provide emotional and practical support to people who have been affected by crime so that they can get their lives back on track. It will keep services like our Supportline open every hour of every day so that victims can access the specialist support they need, when they need it."
Well done and thank you to our colleagues who donated and took part!
Contact the team at Simpson Millar Solicitors
You can call us Free on 0800 260 5010
Or complete the form below and we will get in touch to discuss how we can best help you.