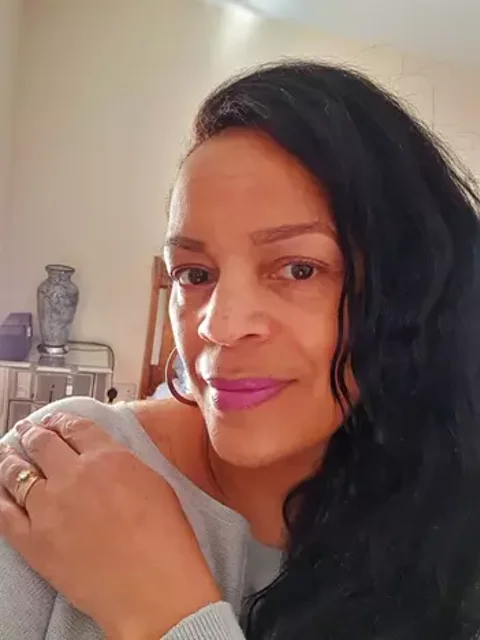 Donna spoke to us about her hair journey in Black History Month.
I was going to tell you about my experience of being a black woman of a certain age, but then I realised that I'd have to share my age with you, so I decided against it. Instead, I thought I'd talk to you about hair.
From a young age, I remember my Mum straightening my hair, using a hot comb that was heated on our gas stove. I remember tensely sitting there whilst my mum worked away, desperately hoping that she wouldn't accidentally catch my ear or scalp with the hot comb. I started using chemical straightening kits when I reached the age of 13 and very soon it was clear to see just how difficult it was going to be to maintain my locks. As my hair grew after 'relaxing', the roots appeared with the same texture of my pre-straightened hair, and I'd have to have it straightened again.
I did this myself for a long time, with no issues at all and sometimes my Dad paid for me to have it done at the salon.
I remember kids asking me at school whether my hair was real and asking if they could touch it and that continued on into my work life, which began back in the 70s.
Our clients rate us as
'Excellent'

4.5 out of 5 based off 2455 reviews
I'll never forget a 'reputable' hairdresser who completely ruined my hair, using a mixture of perm lotion and flour (yes, flour!). This was what a 'white hairdresser' used on my hair as he had no access to the regular straightening kits I was so familiar with. He combed and pulled this solution through my hair over and over again; I remember sitting there worrying about what he was doing, whilst he was chatting, laughing and joking along with the rest of the people in the salon. But I wasn't confident enough to say anything to him.
When he eventually rinsed off my hair, it was so weak at the front that it all broke off and I was left with half an inch of hair from my forehead all the way back to the middle of my head.
He tried to blame me by suggesting that maybe I had done something to my hair before I attended the salon, or perhaps I had been stressed about something, although I couldn't work out what I could have possibly done wrong. Thankfully (and I say that with gritted teeth), he managed to blow dry it so the front was covered up and then later when the one inch area had grown enough, I cut my hair short and grew it all out again. Today, many hairdressers who tend to Caucasian locks tend to know more than their predecessors ever knew and I cannot imagine history repeating itself.  Besides which, we complain far more these days and with Trading Standards around, many fiascos are often settled quickly. 
I stopped chemically straightening my hair in 2016, when I was diagnosed with cancer. I lost my hair and I was devastated to find that there were no wigs available that looked anything like my own hair.
I went with my husband to try on some wigs, at a shop which came recommended by the NHS and was given 'the closest we've got to black hair' to try on.  Of course, I hated it and burst into tears, leaving the shop with no wig. I did find some suitable hairpieces in the local Asian shops and the rest is history.
It certainly seems to me that society still isn't geared up for professional black women and their hair, irrespective of where you are in the world. Years after my original hair humiliation back in the 70's, whilst living in St Kitts, I was told by a local hotel General Manager where I worked, that I had to take my plaits out of my hair as I was in a management position. The plaited hairstyle did nothing positive or professional to represent myself or the hotel. This comment shows me that you can face prejudice as a black woman with natural hair from anyone, including your own race, and anywhere in the world.
My locks have grown back and I have made the decision to blow dry my hair straight now, without using chemicals, and follow up with my hair straighteners. Leaving my hair au naturelle, i.e. curly, causes breakage as my hair is very porous, so the process of blow drying helps my hair to stay healthy and not break.
Thankfully females in professional roles are now embracing their natural hair far more than they were ever allowed to, but there is still prejudice around black hair. Hot weather, cold weather, rain, wind and air conditioning create challenges for black women.  We cannot just 'wash and go'.
My message to other black women is to embrace the hair that you've been blessed with – now I'm a woman of a certain age (I'm still not going to tell you what age), I've learned to embrace my hair but I feel it for the younger generation who love nothing more than to follow the trends and fashions that come and go.
And finally, my message to any business employing black women or men is PLEASE don't assume that a woman or man is being unprofessional because they have plaits or locks or indeed, natural hair –  they're just trying to acknowledge their heritage in a society that only knows its own history.
Contact the team at Simpson Millar Solicitors
You can call us Free on 0800 260 5010
Or complete the form below and we will get in touch to discuss how we can best help you.