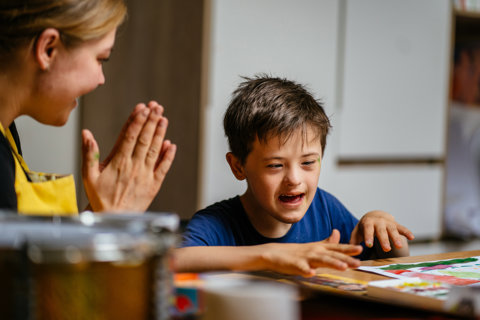 Everything You Need to Know about Education Health and Care Needs Assessments (EHCNAs)
Posted on: 5 mins read

Education, Health and Care Plans (EHCPs) should set out the special educational provision (SEP) your child or young person needs to meet their Special Educational Needs (SEN). EHCPs should be forward-looking, supporting your child or young person's ambitions and preparing them for adulthood.
We come across many frequently asked questions and misconceptions surrounding the assessment process for an EHCP, known as an Education, Health and Care Needs Assessment (EHCNA). Jessica Wake from our nationally leading Education Law team tells you everything you need to know below.
Can I apply for an EHCNA without the support of the school/SENCO (Special Educational Needs Coordinator)?
Yes. Although schools can request an EHCNA, a parent or a young person has the right to ask a Local Authority to conduct an EHCNA. However, it may be helpful for you to discuss your concerns with the school or college before you write to the Local Authority, as the school are likely to have important information that may be helpful.
The Local Authority should usually issue a decision over whether to conduct an EHCNA within six weeks of receiving the request. There are limited exceptions to this (e.g. if the request is made near the summer holidays), but it may be possible to take legal action if Local Authorities don't adhere to time frames. If the Local Authority refuses to complete an EHCNA, you have the right to appeal to the Special Educational Needs and Disability (SEND) Tribunal.
When a Local Authority makes a decision to go forward with an EHCP assessment, the Local Authority must notify you of yours (or your child's) right to express views and submit evidence for support that they need.
You'll need to provide this information to the Local Authority as soon as you can, and within six weeks from the date it was requested. Our Education Law team are experts in every aspect of EHCPs - we can give you advice and guidance as soon as you receive your decision letter, and even represent you in appeals. Get in touch today to see how we could help.
Our clients rate us as
'Excellent'

4.5 out of 5 based off 2452 reviews
Does the Local Authority need to carry out an Educational Psychology assessment before they agree to an EHCNA?
Local Authorities must seek advice from an Education Psychologist during the EHCNA (Needs Assessment) itself.
However, at the stage where you are applying for an EHCNA, and the Local Authority are considering this, there is no legal requirement for the Local Authority to seek the advice of an Educational Psychologist (EP).
Local Authorities should therefore not refuse your application if you haven't had an Educational Psychologist's assessment during the application stage.
Does the child or young person need a specific medical diagnosis to be considered for an EHCNA?
No. A child does not need to have had a diagnosis to be assessed for an EHCP. The Local Authority should consider the child or young person's individual circumstances and educational needs, rather than simply whether they have a diagnosis. A Local Authority should consider them for an EHCP if:
The child or young person 'has or may have Special Educational Needs';
The child may need Special Educational Provision to be made through an Education, Health and Care Plan.
If you're unsure, our Education Law team can give you free initial legal advice and can help you with many different types of educational appeals.
Does my child or young person need an EHCP if they're going to a mainstream school?
Not always. All mainstream schools must lawfully make the 'best endeavours' to provide the 'special educational provision' needed to meet your child or young person's additional needs. To do this, the Local Authority has a budget of around £6,000 for each pupil, which the school should use to help fund the provision your child or young person requires.
If the provision of support costs more than 'the resources ordinarily available to a mainstream school', or the support your child needs cannot be met by these resources, then the legal position is that they require an EHCP. 
The important thing to note is that EHCPs can and should be issued for children in mainstream schools, if they're needed. Children do not need to go to a special school to secure an EHCP.
You can read more information on finding an appropriate school for your child with SEND to help you decide whether a mainstream or special school might be the best option.
If the Local Authority refuses to carry out an EHCNA, how long do I have to wait to apply again?
If the Local Authority refuses your request for an EHCNA, you should be given a right of appeal to the SEND Tribunal. It is unlawful for the Local Authority not to give you a right of appeal.
You can read more about what you can expect at an SEND Tribunal. It can be a confusing process to navigate, but our Education Lawyers have years of experience helping parents through SEND Tribunals and securing the best outcome for the child. Get in touch with us today to see what we can do to help improve your chances in an appeal.
Once you've received the Local Authority's decision on the EHCNA, you'll need to contact a mediation advisor within two months (you can find the details of the mediation provider that your Local Authority have used in your letter).
You are not required to engage in mediation, but you have to have considered mediation, and to have discussed this with a mediation advisor. The mediation service will then issue you with a mediation certificate, and you will need to lodge your appeal with the Tribunal within one month of the date on your mediation certificate.
If you decide not to appeal to the Tribunal, you can apply for an EHCNA again straight away. If the Local Authority still refuses, you'll be given a further right of appeal.
If a Local Authority carries out an EHCNA and then refuses to issue a plan, you cannot ask them to do another EHCNA for a period of 6 months.
Would you like to speak to our Education lawyers?
Fill in your details and one of the team will call you back