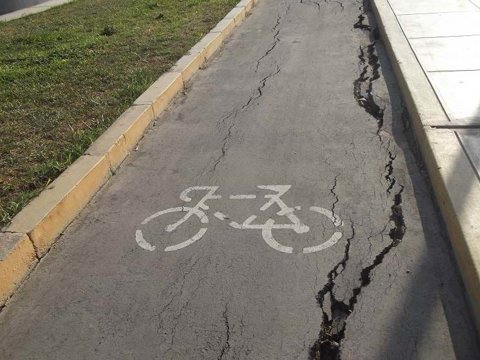 Cyclist v Pothole | Who Wins?
Posted on: 3 mins read

Susan Vanden
Partner, Road Traffic Accident Technical Manager
There's no denying that potholes can be an annoyance for any road user, but they can also be extremely dangerous, particularly for cyclists.
Under the Highways Act 1980, Local Authorities have "a duty to maintain the highway", ensuring that roads are safe for both motorists and cyclists. However, we know that many local minor roads are only assessed on an annual basis and as a result, essential maintenance is not always carried out quickly enough.
Potholes can be particularly dangerous for cyclists. Between 2007 and 2018, 368 people were injured and 22 were killed in cycling accidents involving a pothole. The CEO of Cycling UK has spoken out about the heightened risk to cyclists, stating that "potholes aren't just an expensive nuisance, they are ruining lives."
As Road Traffic Accident Solicitors, we know the devastating impact that a road accident can have. If you've been injured because of a pothole, you could be entitled to compensation. Get in touch to find out if we can help you on a No Win, No Fee basis.
What are the Dangers of Potholes for Cyclists?
Cyclists are undoubtedly the some of the most vulnerable road users, and whilst potholes are often an inconvenience for motorists, cyclists are at a much higher risk of suffering severe injuries or even death in the worst cases.
Between 2013/14 and 2017/18, councils paid out 25 times more in compensation for cyclists involved in a pothole accident than they did for motorists, demonstrating the adverse effect potholes and uneven road surfaces are having on cyclists in England and Wales.
Some of the ways we've seen cyclists sustain injuries as a result of a pothole include the cyclist …
being thrown off the bike – if the front wheel of the bike becomes lodged in a pothole, it is not uncommon for the cyclist to be knocked forward into the air;
losing control of the bike – after losing balance, it may not be possible to avoid vehicles and stationary objects, meaning there could be a collision resulting in serious injuries;
falling to the ground – in some cases, a pothole will cause the bike to collapse to the ground. On busy roads, this could be especially dangerous for the cyclist who will likely be disorientated and slow to move out of the path of moving traffic.
What Should I do if I'm Injured Because of a Pothole?
If you've suffered injuries after encountering a pothole on your bike, you could be entitled to claim compensation. It is therefore important that you take steps to build your case wherever you can, we would recommend the following:
Taking photographs of the pothole – the Local Authority might fill in the pothole before you submit your claim so it's important to get photo evidence if you can.
Taking contact details of any witnesses – if anyone saw what happened to you, their witness accounts could prove invaluable for strengthening your claim.
Speaking to local businesses – local companies may have CCTV that could have recorded the accident, business owners may also be able to tell you if there have been similar accidents on the same stretch of road.
Recording your injuries – try to get a medical assessment as soon as you can and request a medical report detailing the injuries you've suffered.
Making a note of damage to your bike – take your bike to a repair shop and ask them to assess the damage to your bike, this will help us to build an idea of the monetary losses associated with your claim.
How Will a Personal Injury Solicitor Help me?
It can be difficult to claim compensation for a pothole accident as it must be proven that the Local Authority has not implemented a properly working system for monitoring and maintaining local roads.
When you first get in touch with us, we'll offer you a free claims assessment where we'll listen to the details of your situation and let you know if we can help you on a No Win, No Fee basis.
If you then decide to instruct us, we'll begin collecting evidence that will help us to value your claim. In cases where we're able to get the Local Authority to admit liability, we'll request interim payments so that you can cover the costs of any immediate expenses such as medical treatment or repairs to your bike. 
Our Road Traffic Accident Solicitors have years of combined experience in dealing with these types of claims and we will work on your behalf to secure you the fairest outcome.
Get in touch, today!
Fill in the form below to get in touch with one of our dedicated team members, or call our team today on: 0808 239 6443