Cycling can be great fun, the feel of the open road and the wind in your hair, but this can all be shattered in a second if you are unfortunately involved in an accident.
According to the latest government statistics, in 2020 over 16,000 people were injured in pedal cycle accidents and 141 people were killed. Between 2015 and 2020, most pedal cycle fatalities were due to accidents involving a car, but a high number of fatalities also happened to people who had an accident involving no other vehicle! While most accidents happen away from junctions, a significant amount do happen near T, Y, or staggered junctions.
There are three common contributory factors when it comes to cycling accidents. All of them are the fault of the rider. They are:
the rider failed to look properly;
the rider failed to judge other persons path or speed;
the rider was careless, reckless or in a hurry.
It's important to note that all road users have a duty of care to others and that if you are involved in an accident, a percentage of blame may be apportioned to you. This has implications if costs or damages are discussed. The amount you receive in any compensation claim could be reduced if you are found to be even partly at fault.
It is important to make sure your bike is in full working order, including lights and reflectors. The Highway Code recommends that every bike is fitted with a bell. You might not think it's the most fashionable thing to have, but it could save your life or reduce injury to others if you are able to issue a warning.
You should also make sure that you are wearing a properly fitted cycle helmet, which although it is not a legal requirement, it is highly recommended. If you have reflective items on your clothing this can help you be more visible to others too, and not just in the hours of darkness!
If there are cycle lanes on your route you should always use them and never ride on the pavement. Many people don't realise it is illegal to do so, and you could be prosecuted for "Careless Cycling" and be issued with a fixed penalty notice.
If you do have an accident while riding your bicycle here are some important points you should remember
Don't just get up and ride on – make sure you are OK both physically and mentally before you continue your journey. If you are injured, get medical help straight away.
Any evidence you can gather at the scene could prove invaluable for supporting your claim.
Get the names and contact details for anyone who witnessed the accident. This evidence may be essential for building a claim.
If you are the person that has had a collision with a cyclist, then you should share your insurers details with them, in the same way you would so if you had been in a collision with another motor vehicle.
If your accident involves a third-party vehicle, it may be wise to call the police as they will be able to mediate between all parties and ensure your safety, especially if the accident has caused an obstruction to the road.
Our clients rate us as
'Excellent'

4.5 out of 5 based off 2455 reviews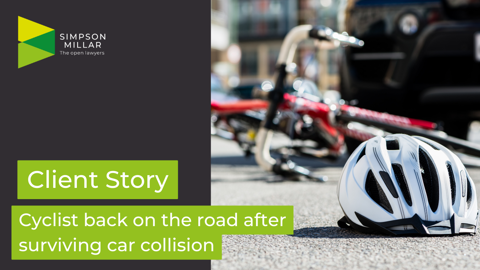 Our experienced team of Road Traffic Accident Solicitors can help you get the compensation, rehabilitation and support you need if you or a loved one has been injured, or worse in a cycling accident. Get in touch today and ask if we can deal with your case on a No Win No Fee basis.
Get in touch, today!
Fill in the form below to get in touch with one of our dedicated team members, or call our team today on: 0808 239 6443