Military Parachute Accident Claims
For free legal advice call our Military Claims Solicitors and we will help you. Ask if we can deal with your claim on a No Win, No Fee basis.

We're rated
'Excellent'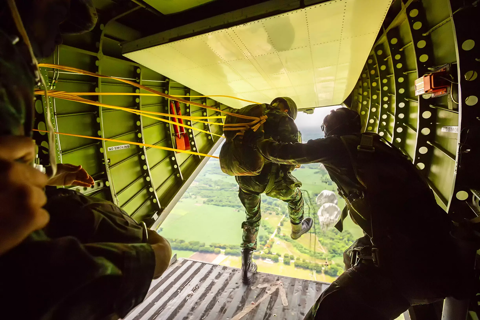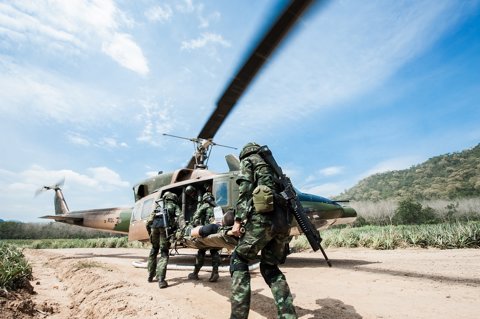 Helping people injured in military parachute accidents
Parachuting is a potentially dangerous activity, and the Ministry of Defence has a legal duty to minimise the potential risk of injuries for British Armed Forces personnel whilst taking part in military parachute activities.
If you have suffered from an accident or injury during a military parachute jump, or your loved one has, For a free claims assessment and legal advice get in touch with our Military Accident Claims Solicitors.
We can advise on whether the MoD may be at fault for the accident, and whether you can claim compensation. If we take your claim on, we will deal with the case on a No Win, No Fee basis.
Why Choose Simpson Millar to help you?
Military Parachute Accident Claims
Even though parachuting is a high-risk activity, the MoD has a duty to minimise the potential risks by:
Giving the correct training
Providing the correct safety equipment
Making sure the equipment is safe
Ensure that the weather conditions are safe for parachuting
If the MOD doesn't follow Best Practice, this could result in a serious parachute accident. If you have suffered an injury in a parachute accident, speak to one of our expert Lawyers as soon as possible even if you're not sure if you have a claim.
Meet some of our Military Claims Team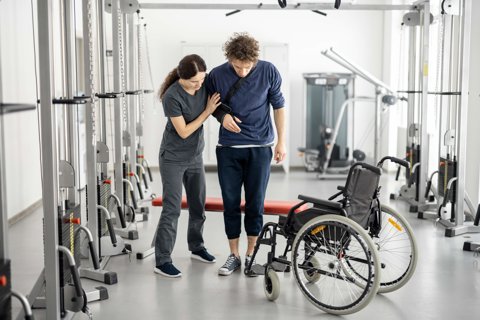 Claiming Compensation following a Military Parachute Accident
Parachute accidents generally involve a high velocity impact, and significant or severe injuries. These type of accidents and injuries generally result in a long road to recovery. In many cases, your injuries will cause your military career to be cut short, and make it harder for you to find future employment.
In the most serious cases, there could be catastrophic brain or spinal injuries, meaning round-the-clock care is needed. Any compensation awarded would pay for care costs for life, along with compensation for the loss of a career.
Life after significant injury can bring up many uncertainties, causing a lot of stress and worry, but a successful compensation claim can help give you and your family future financial security.
Our Solicitors will handle your claim with sensitivity, and a personal touch, and will contact you regularly throughout the claim.
Fatal Military Accident Claims
No one expects their loved one to die on a training exercise. As a family member, you can only wonder what went wrong, and why, and you may also face financial difficulties because of the loss of income as well as having to cope with your sudden loss.
Making a claim is vital for the surviving husband or wife and family. This won't make up for what's happened, but it should ensure future financial security. Our Military Claims Solicitors are approachable and understanding. Contact us for free legal advice.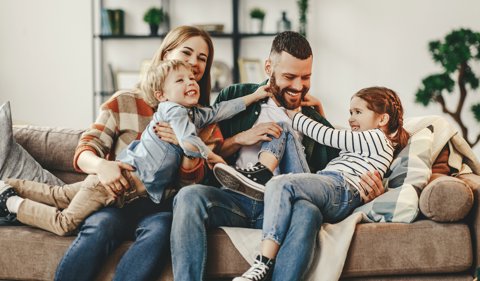 Armed Forces Compensation Scheme and Critical Illness Claims
If you have suffered an injury after a parachute accident in the course of your armed forces career, you should make a claim under the Armed Forces Compensation Scheme (AFCS). This is a no fault scheme, so compensation should be paid out for any injuries you have.
Although you can make an AFCS claim, the compensation tends to be lower than compensation payouts in civil claims. However, advice should also be sought on a civil claim due to the higher awards in civil claims. The amount of compensation you were given in your AFCS claim will usually be offset against the compensation you get from the civil claim.
Where possible, we are able to assist clients with their AFCS claims, alongside their civil claims, and we have years of experience therefore in assisting with these types of claims. In some circumstances, we can represent you in just an AFCS claim – talk to one of our Military Claims Solicitors for advice.
If you have a Critical Illness Insurance policy, we recommend investigating a claim through any policy as these claims are generally not offset against any civil award.
FAQs about Military Parachute Accident Claims
You usually have 3 years from the date of your parachute accident to make a civil claim, and 7 years to make an AFCS claim.
Discretion can be sought, but getting early, specialist legal advice is crucial. 
Understandably, some serving personnel feel more comfortable leaving any prospective claim until they have left service, but this should be avoided. Solicitors need the longest period of time possible to investigate a case, to gather evidence, and to be prepared to start Court proceedings within the 3-year time limit.
We offer free legal advice over the phone and we will deal with your case on a No Win No Fee basis if we take it on. This means you won't have to pay us for any of the legal work we do unless we succeed in getting you compensation.
Examples of People We've Helped
Our Military Claims Solicitors having helped many clients claim compensation from the MOD for injuries sustained while serving in the Armed Forces. Here are just a few of the people we have helped:
Get in touch, today!
Fill in the form below to get in touch with one of our dedicated team members, or call our team today on: 0808 239 0244