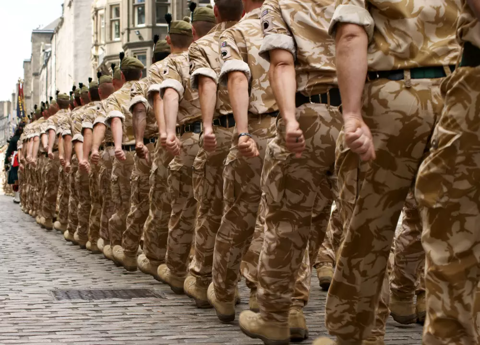 Back in 2014, the Ministry of Defence (MoD) signed a contract with US defence contractor General Dynamics to design, build and test 589 fully-digitised, armoured Ajax land vehicles.
These tanks were meant to replace the existing fleet of armoured vehicles that had been developed back in the 1960s. They were expected to revolutionise the British Army, making us more agile, flexible and resilient.
However, over a decade later, and after spending over £3.5 billion on the project, the MoD had to halt the trials over safety concerns.
Why were the Ajax tank trials stopped?
In 2019, during initial trials at the Armoured Trials and Development Unit, it was reported that the Ajax tanks were incredibly loud and vibrated excessively.
But, when these issues were reported to the MoD, they failed to act upon them, and the trials continued.
It was only when some of the soldiers involved in the testing of these vehicles started to experience vibration injuries and problems with their hearing that the MoD finally stepped in and stopped the trials. This wasn't until June 2021, two years after the initial issues were raised.
If you were part of these Ajax trials, our Military Claims Lawyer might be able to get you compensation if your hearing was affected or you've suffered from debilitating vibration injuries.
Who's been affected by the Ajax trials and how has it impacted their lives?  
Around 17 soldiers are currently receiving specialist care for hearing loss as a direct result of trialling these Ajax tanks. Some are likely to be able to return to duty, but for 11 of them, their hearing has been damaged so badly it's limited their ability to perform their basic military duties.
The army has also identified a further 310 army personnel that might have been affected by these noise and vibration issues. There are serious concerns that these soldiers may have developed conditions such as:
Noise-Induced Hearing Loss (NIHL): NIHL happens when the inner ear structure is damaged by excessive noise and can lead to significant hearing loss which makes it difficult to hear people talking in loud environments.
Tinnitus: People with tinnitus tend to experience a buzzing or ringing in their ears which is distracting, causes sleep problems and can lead to mental health issues.
Vibration White Finger Syndrome: Sufferers of Vibration White Finger Syndrome usually get numbness or tingling in their hands and arms, painful joints and muscle weakness. It can impact their ability to perform manual tasks and can often mean they're unable to handle small, fiddly things like buttons or cutlery.
"The figures illustrated the failure of the MoD to fulfil a basic duty of care to those who serve." - The Times
What can army personnel do if they're suffering from vibration injuries or hearing loss as a result of the Ajax trials?
If you were involved in the Ajax vehicle trials and are concerned about potential hearing loss or issues caused by your exposure to the excessive noise and vibration during the trials, you might be able to file a compensation claim against the MoD for failing to provide a basic duty of care.
At Simpson Millar, we've seen a huge increase in the number of claims brought by service personnel because their health and safety has been compromised due to a lack of duty of care by the British Army.
So, if you're still serving, your first step is to discuss any symptoms with your Medical Officer. Then, contact a specialist team of experienced Military Claims Lawyers, like the ones here, at Simpson Millar, who can make the claim on your behalf.
We understand that making a claim against the MoD can sometimes feel a bit daunting or uncomfortable, so your case will be handled with the utmost care and sensitivity. We strongly believe that you're entitled to receive compensation if they haven't put your health and safety first, if they've failed to offer you a proper duty of care and if you've suffered as a result.
Would you like to speak with one of our Military Claims Specialists?
Fill in your details and one of the team will call you back or if you need to speak now call us on 0808 239 0244